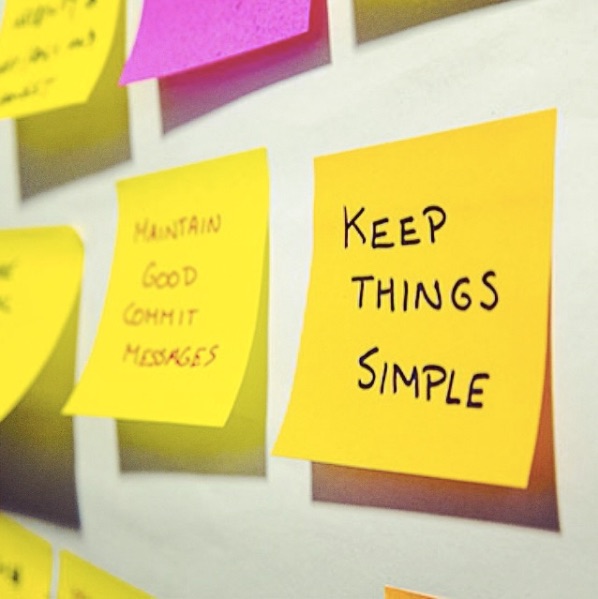 At GDS, we believe that we should share as much as we can. I wrote about this in my last blog post, where I spoke about how we like to use open approaches in the Digital Marketplace.
In this post, I'm going to talk about what we're doing in line with our fourth design principle: "Do the hard work to make it simple".
The world of public sector procurement and contracting can be complex. It's also vast in its scope. As a result, within the UK public sector, the way that things are bought and sold is often governed by outdated processes and systems. This means it's hard work to make buying and selling simple, clear and fast.
That's why we're doing everything we can to remove as much complexity and friction as possible.
Enabling end-to-end buying that's as frictionless for users as possible
The best way to build services so good that users prefer them, is to start small and iterate wildly. This reduces risk, makes big failures unlikely and turns small failures into lessons.
Small shifts add up to big changes
To remove the barriers to better technology in government, we need to take a fresh look at how we do procurement and contracting in the public sector.
The system of public procurement and contracting is too large to modernise all at once. We need to break it down into thin slices. In this way, they can - and should - become digital, as defined by GDS alumnus Tom Loosemore:
Digital: Applying the culture, practices, processes & technologies of the Internet-era to respond to people's raised expectations.
These thin slices are represented by the components that make up the Digital Marketplace.
Each loosely-coupled component has a specific role and responsibility. Data and services are provided to and consumed by the other components throughout the end-to-end buying journey. I'll talk more about why this is important for scaling the Digital Marketplace in a few weeks.
The work we're planning for these components includes:
This work is important for opening up the public sector procurement market to SMEs.  If we want to move away from reliance on a small number of suppliers, we need to make it easier for all suppliers to find and bid for opportunities in the public sector. And, we want government buyers to be able to find innovative suppliers that will meet their needs.
Do more by doing less
Doing the right things is more important than doing more, or simply just doing what is easy.
"Do less" is our second design principle. It fits with the tenth principle from the Agile Manifesto: simplicity - the art of maximising the amount of work not done - is essential.
Product Manager, Sarah Cunliffe, talks about how we're prioritising user needs. Based on user research, feedback and performance data analytics, the Digital Outcomes and Specialists buyer journey is being constantly iterated.
For the last 3 months our prioritised user needs have been grouped into these 3 broad themes:
putting more of the buying journey online
making things clearer
making things faster
All of these are aimed at meeting the needs of buyers and suppliers. We want to remove as much complexity and friction as possible from the end-to-end process.
But we're not expecting to do it all on our own.
A problem shared is a problem halved...and thirded, and quartered…
In part 2, I wrote about how sharing and reusing work helps not only the Digital Marketplace, but other governments too. People like the Australian Digital Transformation Office (DTO), and the Government Digital Service of Singapore have reused the code for 18F's micro-purchase platform to create their own marketplace for buying services.
A global community of collaborators is growing around one simple idea. This is transforming public sector procurement and contracts, with user-centred, design-led and open approaches.
We make users' needs, our priorities, our developments and our roadmaps open. Sharing information with each other means we can divide the workload. It helps us avoid duplication of work, and benefit from each other's insights.
Like-minded people from around the world will be able to contribute new features and enhancements to all these open source assets from Digital Marketplace and other government platforms.
Our part in reforming digital and technology in government
The Digital Marketplace components naturally combine to meet several user needs at different stages of the end-to-end procurement and contracting cycle.
The cycle may repeat many times over the lifetime of a programme or project. Each time, procurements will be adapted to meet buyers' needs and reflect the constant evolution in supply markets.
For this reason, the Technology Code of Practice, the Digital Service Standard, and the Cloud First policy, are all fundamental components of the end-to-end procurement and contracting process for digital and technology. By setting the standards on the best way for government organisations to design, build and buy, each one is helping to reform digital and technology.
More in this series
This is the third in a series of 6 blog posts in which I'm talking about the Digital Marketplace vision.
As always, we'll be thinking out loud by blogging here regularly. Sign up to follow the Digital Marketplace blog to track our progress.