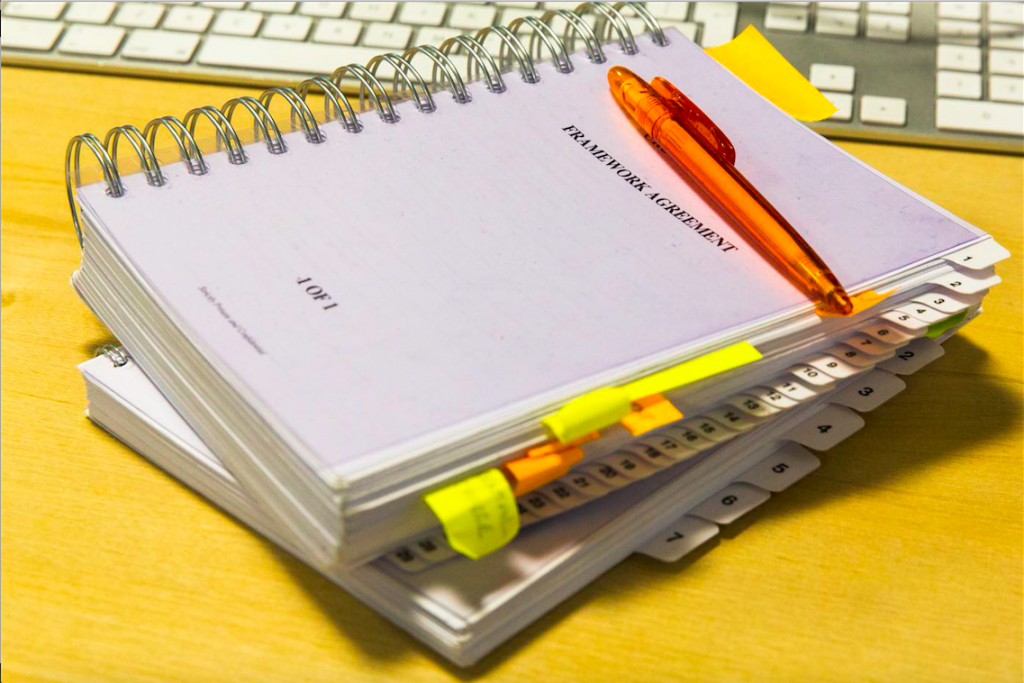 This is a joint blog post written by Jason Waterman from the Crown Commercial Service (CCS), and Warren Smith from Government Digital Service (GDS).
We first started talking about creating simpler, clearer contracts in June 2015 when we were designing the Digital Outcomes and Specialists framework.
Traditionally, contracts are written in complex language and include lots of repetition. We wanted to change the way the legal documents for the Digital Outcomes and Specialists framework were written and the way we presented them. To do this, GDS content designers worked alongside procurement specialists from CCS and the Government Legal Department (GLD) to draft the terms and conditions.
Scaling up user-centred contracts
Since our first attempt at a contract that puts the user first, we've been looking into how a user-centred, design-led approach could be applied to meet the needs of a much wider group of contract users across government.
We'd like to find out about the user needs for creating 'model contracts' that work across CCS for the most commonly used goods and services. CCS, GDS and GLD are now forming a multidisciplinary team to do this. The benefit of working together will mean that we'll combine our areas of expertise to create accurate and compliant model contracts written in simpler language.
We'll work with the GDS design principles and agile delivery in mind. Working and thinking in this new way will help the CCS policy team to deliver government contracts for the 21st century, as well as better practices in commercial law.
This is an important part of the plan to become a government that's designed for the digital age.
Our joint vision
We feel that shortening and simplifying contracts and hosting them somewhere accessible online will encourage a more diverse range of suppliers to apply to supply their services to government. It will also ensure CCS can provide buyers with the best possible commercial deals for common goods and services.
The vision of the Good Law initiative of the Office of the Parliamentary Counsel (OPC), states the need for necessity, clarity, coherence, effectiveness and accessibility in law. We think this vision applies equally to government contracts.
We want users to experience contracts that are designed to meet their needs.
We're creating contracts that are designed:
To meet user needs
Finding out who our users are, what they're trying to do, and how they're trying to do it will be at the heart of our discovery.
For simplicity, clarity and interaction
Contracts often contain lots of information (some of it irrelevant) and complex concepts. By using the GOV.UK style guide, we can keep our language as simple as possible and our content consistent. We'd like to explore other ways to communicate complex information, eg the Good Law initiative is exploring how to do this through infographics.
For consistency, not uniformity
We know that 'one size fits all' approaches to model contracts don't work. This is because they try to cover all possible eventualities, so they contain things that may not be relevant. For example, what's relevant to digital and technology commercial relationships, may not be relevant to facilities management, marketing or office supplies.
We'd like to explore developing design patterns to give a consistent quality and user experience across contracts. These patterns might include sets of model terms and conditions, which can be assembled simply and quickly, in a way that meets the contract users' needs.
To be open
We've been talking about an open standard for public procurement and contracting data. When we combine this with our work to design model contracts, it will further support the broader open contracting commitments made in the UK's latest Open Government Partnership National Action Plan.
We'd also use open standards for sharing or collaborating with government documents and for viewing government documents.
For success
Choosing the right contract terms and conditions is essential for public sector buyers to get best value when establishing good commercial relationships with suppliers. We'd like to design the terms and conditions to help achieve this, where the needs of all parties are met equally, for the duration of the contract.
For continuous improvement
Just like a live digital service, the model terms and conditions won't be 'finished' when they're used throughout CCS. We'll iterate and improve them continuously, based on user feedback, analytics and further research.
The parallels with continuously improving design patterns is summarised in Henry Hadlow's post about how to make a new design pattern – or improve an existing one.
Get involved: become a good contract champion
We'd like to create a network of people who share our vision and want to work with us to take this initiative forward. We want to help encourage better practices of user-centred design in public sector procurement and contracts, but also by sharing what we're doing outside of government. Fill in this form to get involved.
As always, we'll be thinking out loud by blogging here regularly. Sign up to the Digital Marketplace blog to keep up to date with our progress.