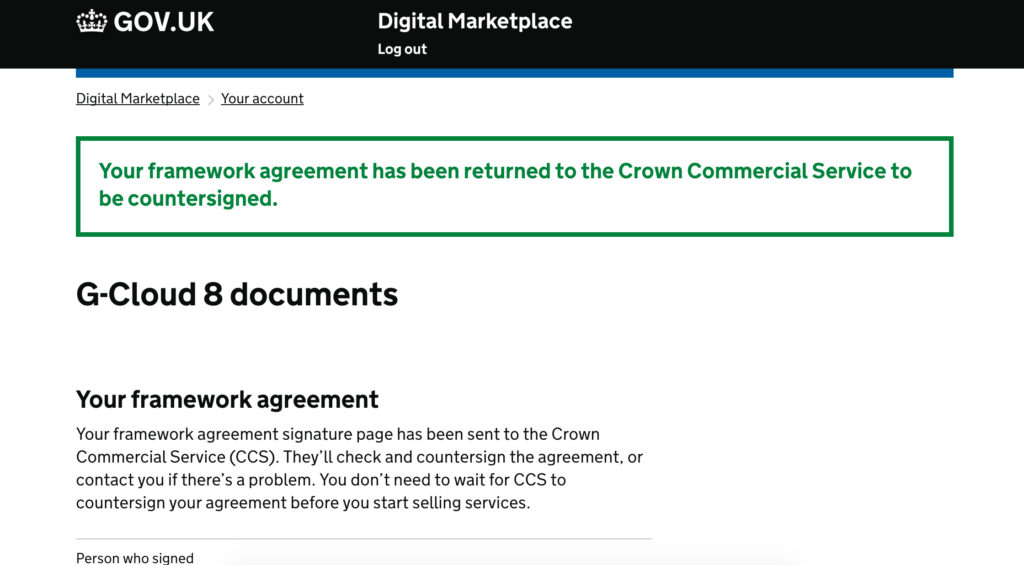 If you've applied to supply your services through the G-Cloud 8 framework, you'll find out the result of your application by the end of the day on Monday 18 July.
If you've been successful, you'll receive a copy of the framework agreement in your Digital Marketplace account. Before you can start to sell your services, you need to sign and return it. The Crown Commercial Service (CCS) will then countersign it.
Changes to the signing process
We're making some changes to the way we ask suppliers to sign their G-Cloud framework agreement. You won't need to install third-party software to sign it as you may have done for G-Cloud 6 and G-Cloud 7. You can sign it in whichever way is best for you and then follow the steps in your account to return it.
Your countersigned agreement
We'll let you know when CCS have countersigned your framework agreement and it's available in your account. The final signed framework agreement will include:
a signature page, signed by the supplier
a signature page, signed by the Crown Commercial Service
the rest of the framework agreement document
There are separate signature pages for the supplier and for CCS to make the process quicker. We've worked with the Government Legal Department (GLD) and CCS to make sure we've followed good legal practice and complied with procurement regulations.
See the framework agreement and call-off contract
Both documents are available on GOV.UK:
These are the final versions and contain all the changes raised during the clarification period of G-Cloud 8 applications. We've included a 'version reference' on the cover page of the framework agreement and in the footer on each page of the documents. This reference includes the date we published the documents on GOV.UK.
We'll be blogging next week about our thinking behind these changes.