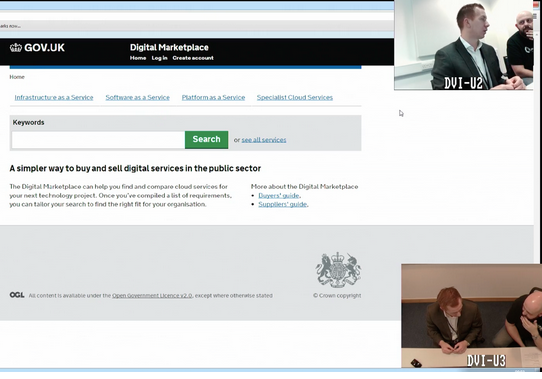 Since beginning our work on the Digital Marketplace, we've had many discussions with buyers and suppliers. Through this we understand some of the drivers and some of the challenges faced by all users.
In the user research studio here at GDS, we use eye-tracking software to gather information on what people notice. We use the live Digital Marketplace as well as prototypes, which allow us to test reactions to new ideas and designs before we proceed to development.
Our research includes one-to-one sessions in our studio, field research with suppliers in their offices, pop-up research at events as well as online surveys and card sorts.
People's experience makes a difference
After listening to people's experiences, the Digital Marketplace team have created personas to represent different users and we've developed user journeys to guide us through the procurement process. These have contributed directly to the design of Digital Marketplace.
User research has contributed to us designing clearer, simpler language to describe Platform as a Service, Infrastructure as a Service, Software as a Service and Specialist Cloud Services. We have also built a clearer submissions process for supplier services.
Buyers have told us what information they expect to see about services, and suppliers have have described how they would like to present their services on the Digital Marketplace.
We need your help
The more users we speak to, the faster we're able to make the improvements that matter. If any of the following applies to you, then please get in touch as you can make a difference and help change the Digital Marketplace.
Sign up here to help. If you'd like more information on who we'd like to speak to and how you can help follow this link.