Suppliers often ask about how to understand the mindset of their buyers so that they can make sure they can be found. This week, we're going to introduce you to our research-based buyer personas.
Defining what a buyer is
Anyone in government who wants to buy a cloud service is a buyer. People don't tend to buy alone, it tends to be a process involving several people in a team. These users might include; people in charge of budgets, senior managers looking for services, specialists lending their expertise to procurement colleagues or analysts who are searching for options on behalf of other people.
Our Buyer Personas
When we began our user research for the Digital Marketplace, we needed to know who the buyers were. To help us to understand buyers, we created personas, as described by Ivanka in April in her earlier blog post. We wanted to capture the personalities, hopes and fears of different types of buyer.
Each buyer persona shows three sliding scales, which reflect the three most significant characteristics of our users when they engage with our service:
How knowledgeable they are with technology
How experienced they are in public sector procurement
How focused they are on outcome (to the right) rather than process (to the left)
Gareth Holmes
Gareth is the subject matter expert on the buying team. He knows a little about the procurement process and is fearful that the process will force him into a poor technical solution.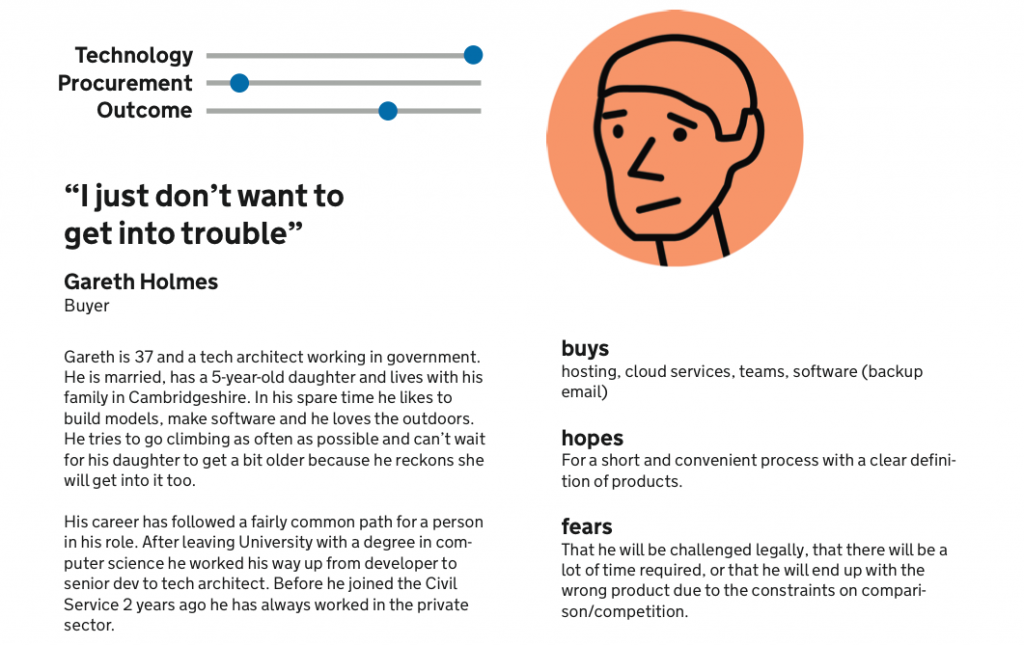 When we think about how Gareth uses the service we know that he'll be able to understand any technical information he's faced with. He wants a straightforward process he can follow which will reassure him that he's following the right procurement steps.
Patricia Greene
Patricia brings procurement expertise to the team. She likes the fact that Digital Marketplace will let her get an idea of budget without having to start sending out formal procurement documentation. She knows enough about technology to avoid being duped but isn't an expert.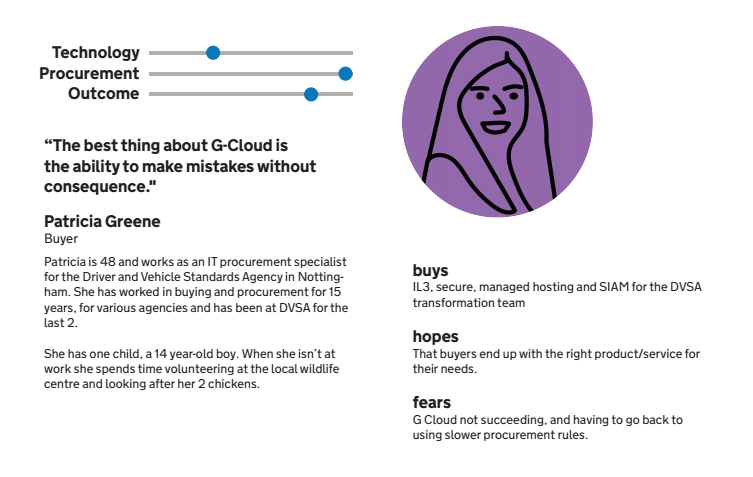 Patricia's needs to understand how services are described by suppliers so that she can find services that will meet her requirements. In addition, she needs to be able to clearly state how the process fits in with her own departmental needs.
Jess Clarke
Jess is a delivery manager. She cares about delivering on time and on budget. Any delays caused by a procurement process are unacceptable to her.
<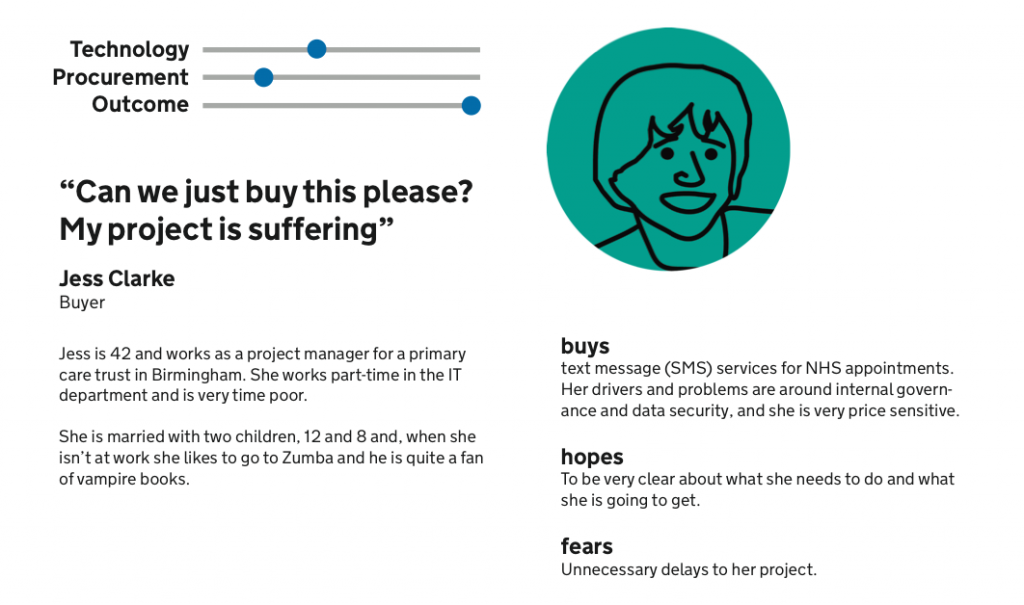 Jess needs a service which allows her to very quickly analyse her options and find the right product. She does not want to concern herself with the intricacies of the procurement process and relies on others around her to look after this part.
We know that users don't always fit neatly into boxes and we test these personas regularly against the buyers we talk to in the lab. They are constantly refined so that we can make sure they reflect real behaviours.
User research for the Digital Marketplace is still ongoing, so do please join in.