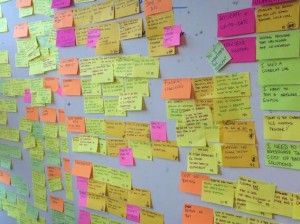 About 3 weeks ago I joined the commercial services team at GDS as user researcher.
I've already had a few discussions with buyers and suppliers and, even in the early stages, am gaining a more in depth understanding of some of the drivers and some of the challenges faced by buyers and suppliers. The planned research will include 1 hour, one-to-one sessions. For now, we're aiming to set up these regular research sessions on Wednesdays to ensure that there is time for analysis, and to feed into the current design and build effort.
We need your help
We are looking for participants who fit the following descriptions:
Suppliers
currently supplying on G-Cloud or Digital Services framework
currently on G-Cloud or Digital Services framework but have not made any sales
applied and failed to get on either framework
thought about going on either of the frameworks but dismissed the idea
don't know what a framework is
Buyers
you are a professional procurement person working in the public sector
as part of your work in the public sector you have to buy things or commission work
you use the Digital Marketplace or Digital Services Store regularly
you have looked at Digital Marketplace or Digital Services Store and can't see how it applies to your tasks
you don't know anything about either of these stores
Sign up to participate
If you match any of the descriptions above then please follow the link at the end of this post and leave us details of: who you are, how to contact you, where you work and what your role is. We may also run other types of research and would like your consent to contact you with questionnaires or invitation to group workshops. Contact would be no more frequent than once a month. Follow the link and please sign up to help.