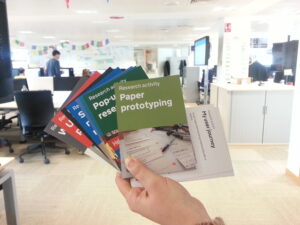 This post is from our User Researcher, Katie Taylor
As the user researcher for digital marketplace, I'm running research lab sessions every 2 weeks. The first session I ran was with buyers, and their responses to 4 main pages of design for the new store. I used a paper prototype as we wanted to start testing now, early on in the design. I also wanted to encourage the buyers to draw what they expected of the pages, and how they would change things.
One of the major themes that emerged from this round of testing was buyer confidence.
How do we provide reassurance to buyers, so that they can buy within the constraints of government procurement?
Reassurance
Buyers need reassurance that they are buying the right thing, in the right way.
For some that means understanding what cloud technology is and what it can do for them, for others it will mean understanding how to navigate the complexities - perceived or real - of government procurement.
In a previous blog post, Ivanka talked about personas for the digital marketplace and the different things that matter to different types of buyers.
Types of buyers
How technical they are
How clearly they can describe the desired business outcome
How experienced they are at procuring in government or the public sector.

Buyers who are technical, not experienced at buying in government are apprehensive around the procurement process. They worry about legal challenges or ending up with the wrong product because of rules about comparison and competition.
"I don't want to get into trouble"
Knowing suppliers
Buyers are also naturally wary of suppliers that are unfamiliar to them. Buyers need reassurance that suppliers are genuine and trustworthy, and that they have been 'checked out' before being allowed onto the store. "They wouldn't be on CloudStore if they were about to go bust. Would they?"
Of course we got lots of useful feedback which has now fed into the next round of testing which is scheduled for next week so I will report back on that later.
In the meantime, if you want to join in with the research please don't forget to sign up.