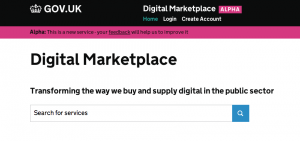 We are beginning to explore some potential new features for the Digital Marketplace and I would like to share a few of them in this first blog post on the subject. As we are following a user-centred and agile process for our development this is just the beginning and, with our Alpha targeted for just after Easter there will be plenty of opportunity to be involved as our ideas get more and more defined.
A more powerful search
We are looking to use a new search engine, Elasticsearch, which has already been widely used across GOV.UK. Initial tests have shown it to be much faster than the current search solution and we're working on the ability to have more complex searches, allowing buyers to search by exact words and phrases, as well as exclude specific terms.
Questions and answers
Suppliers try hard to cover off all the relevant information needed in their descriptions, but invariably there are questions that potential buyers have that aren't covered. Currently, getting an answer means contacting a supplier individually by phone or email, which means the same kinds of questions are being asked repeatedly. To save everyone a lot of time, we're looking at building in the ability for buyers to ask questions about a service, which the supplier can then answer directly. Buyers will be able to vote up the most useful Q&As, helping suppliers understand better the real needs of buyers, and improve their offerings.
Buyer projects
Buying can be a complicated process, often with several different people involved and ensuring legal audit trails. Right now, a lot of this activity happens 'off line', with buyers using a variety of additional processes, such as shared documents for collaboration, email correspondence for sign off, and screen shots of their searches to create an audit trail. We're aiming to allow users to bring all of these processes within the Digital Marketplace; buyers will be able to create projects, save searches and add results to specific procurements, record their keyword and search criteria, and reasons for deciding on a final service. They will also be able to share all these with team members, making it clearer, simpler and faster for the everyone.
I hope that these few highlights have given a good idea of what is possible for the new Digital Marketplace, and how we are looking to meet the needs of the whole community of buyers and suppliers. As always, if you have any thoughts, feedback or suggestions, please don't hesitate to comment or get in touch, and of course don't forget to sign up for our regular user research sessions.