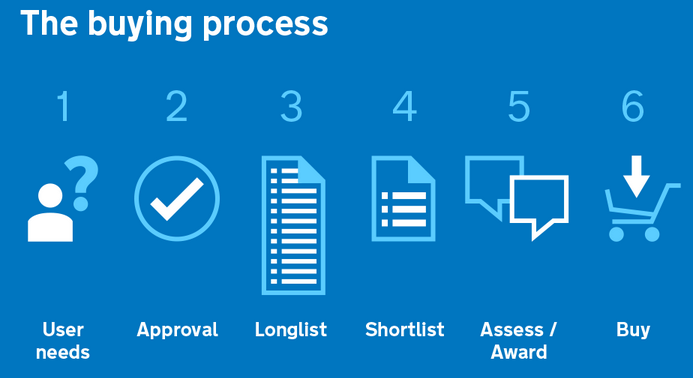 One of the biggest challenges we have encountered while building the Digital Marketplace is this: no matter how much we improve the search technology, some service descriptions make it very hard for buyers to understand what a service does and therefore how relevant it is to their requirements.
Buying in government
Buying in government and the wider public sector is not like buying a new TV on Amazon. It never will be. As a consumer I can pick any TV that takes my fancy. As a public servant I have to choose the TV that best meets my requirements. What's more, as a public servant, I have to be able to explain why I have rejected all the other TVs that might seem to meet my requirements.
As a consumer searching for a TV on Amazon, the top results are likely to draw most of my interest – especially if there are thousands to choose from – but it isn't necessarily a given that they are the best TV for me.
As a public servant, the order of the results is not relevant. If they all meet my requirements I am obliged to go through them one by one and explain each rejection.
In practice, with my public servant hat on, my best option is to think very carefully about exactly what sort of TV I am looking for: screen size, modes, input options, screen technology, delivery time, returns policy, weight, whatever it is that would make it the very best TV for what I am trying to achieve. Once I am looking at the list of TVs that meet my requirements I can then start looking at simpler things like price.
It's not about being top of a list
Creating that focused list with the current G-Cloud data can be a bit of a challenge. For G-Cloud 6 we have overhauled the service submission questions. This will help suppliers describe their products and services to make it easier for buyers to find and compare services. For example, we will be asking suppliers to provide a short description of their service, a list of features, and a list of benefits. We will also be making it possible to create a supplier page where some of the marketing material – currently embedded in service descriptions – can be more usefully housed.
G-Cloud has been gaining momentum because the products and services on the framework meet the requirements of many government departments and wider public sector organisations. When you are writing your service descriptions, I invite you to think less about being at the top and more about being the last one left after the elimination round.
So, when writing your description, keep asking yourself, "what requirements does my service meet?"