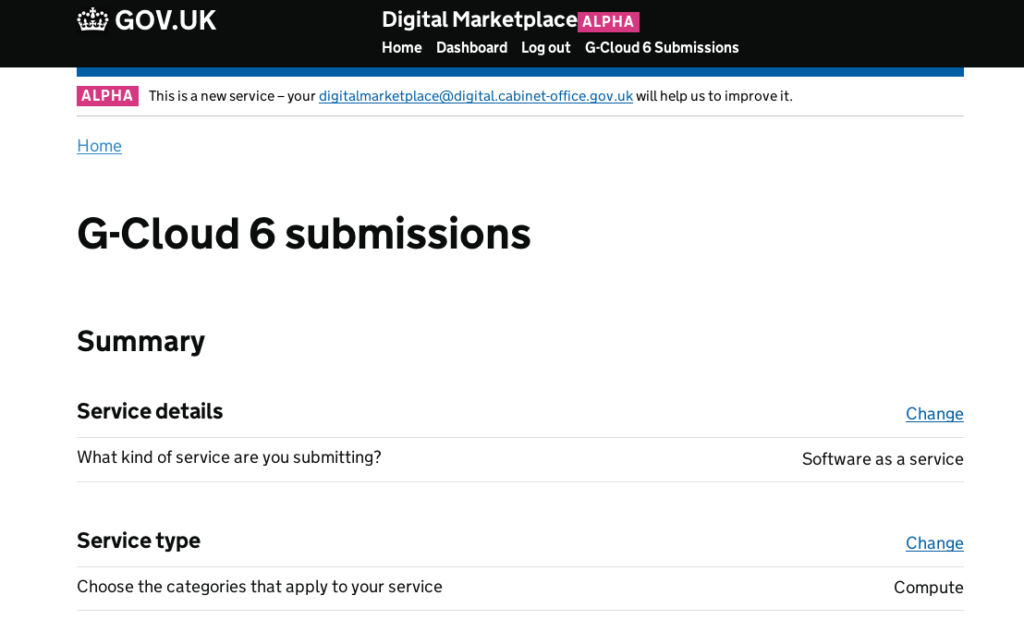 When you submit services to the G-Cloud framework, you need to answer a series of detailed questions about your organisation and services. The information you provide is then used on the Digital Marketplace – either as filters, or as the basis for your service or company description.
Service Submission Portal questions for G-Cloud 6
We're sharing all the questions that we'll be asking in the Digital Marketplace Service Submission Portal (SSP). These are the questions that set out how your individual services will appear in the Digital Marketplace, to help you prepare for the G-Cloud 6 application process.
From user research, we've learnt that many organisations use spreadsheets to collate all the information they need for their G-Cloud submissions so the questions are available in a .csv file format. The best place to access them is via GitHub as that is where they will be deployed if there are any changes. For those of you unfamiliar with GitHub:
Go to GitHub here: https://github.com/alphagov/supplier-submission-portal/tree/master/conf
Click on the file you wish to download, for example content_Iaas.csv
Click on the button labelled Raw. The file will be displayed in your browser
Go to File, Save Page As, and select where you want the page saved to
Please note that you will need to complete the formal submissions process and that answers cannot be provided in the attached .csv file. The questions themselves may be subject to minor changes between now and the Official Journal of the European Union (OJEU) going live.
Lots and categories for G6
The lots for G6 remain exactly the same as they were for all previous iterations. We have updated the categories within each lot and have included them here.
Infrastructure as a Service
Service Submission Portal Questions: IaaS
Infrastructure is the hardware that makes software work. It's the networks, hosting facilities and servers on which platforms and software depend. Infrastructure as a Service (IaaS) is infrastructure you can order and run entirely over the internet, without having to pay for your own hardware.
IaaS categories:
Platform as a Service
Submission Portal Questions: PaaS
Platform as a Service (PaaS) technologies are software platforms that provide a basis for building other services and applications. With PaaS, you can set up, order, pay for and manage platforms in the cloud.
PaaS has no categories within the lot.
Software as a Service
Submission Portal Questions: SaaS
Software as a Service (SaaS) is an application or service that can be run over the internet or in the cloud. Examples of SaaS include web-based email services, customer relationship management (CRM) software and analytics tools.
Saas categories:
Accounting and finance
Business intelligence and analytics
Collaboration
Telecoms
Customer relationship management (CRM)
Creative and design
Data management
Sales
Software development tools
Electronic document and records management (EDRM)
Human resources and employee management
IT management
Marketing
Operations management
Project management and planning
Security
Libraries
School and education
Energy and environment
Healthcare
Legal
Transport and logistics
Specialist Cloud Services
Submission Portal Questions: SCS
Specialist Cloud Services (SCS) support your transition to SaaS, PaaS and IaaS. Examples of SCS include cloud strategy, data transfer between providers or day-to-day support of cloud-based services.
SCS categories:
Planning
Implementation
Testing
Training
Ongoing support