In my previous blog post about the Digital Marketplace vision, I re-introduced the 6 broad themes about how we're helping the public sector buy what it needs to deliver great digital services, and why these are important.
Part 1 focussed on the work we're doing with the Crown Commercial Service (CCS) and Government Legal Department (GLD). I spoke about how we want to meet user needs, not government needs. We're setting new standards in public sector procurements and contracts, making them so good that users prefer them.
In the second post of this series, I'm going to talk about some of the things we're doing in line with our tenth design principle: "Make things open: it makes things better".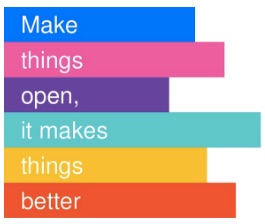 Sharing whenever we can
In his recent blog post 'Removing the barriers to better technology', government Chief Technology Officer (CTO) Andy Beale said:
Reuse is a big part of what we want to achieve, and it's more than just reusing technology. We want people to reuse each other's work, like a well-run discovery phase or pilot project, or a well-designed policy. When someone, somewhere, does something well, we want to find out about it and make sure it's recognised and replicated as widely as possible.
In the Digital Marketplace team, we're continuously looking to improve everything we're doing by being open about our:
This helps us, but it also helps other governments, such as the Australian Digital Transformation Office (DTO), and the Government Digital Service of Singapore, who recently reused the code for 18F's micro-purchase platform to create their own.
Here are some of the ways that we're applying open approaches to make things better.
Open markets and supply chains
We're spreading better practice of user-centred, design-led and open approaches to public sector procurements and contracts.
This reduces barriers for suppliers to enter the public sector market, giving access to a greater number of new and innovative suppliers. Many of them have never had the opportunity to work with government before. As a result of these activities:
Digital Outcomes and Specialists services went live with 1,261 suppliers - of these, 92% are SMEs and 52% are new to the Digital Marketplace
When G-Cloud 8 (G8) services went live, 2,726 suppliers became available across G-Cloud 7 (G7) and G8 - 90% are SMEs and 757 are new to the Digital Marketplace
We want to support delivery of better public services. We'll do this by continuing to spread better practice. This will help to transform government supply chains and the ways that buyers and suppliers interact.
Open thinking and open behaviours
Engaging a diverse range of suppliers and buyers is a fundamental part of delivering the Digital Marketplace as a service that meets users' needs.
Before Digital Outcomes and Specialists opened for supplier applications, we shared the drafts of the new, more accessible legal documents with the public and asked for feedback. Then we split the feedback by theme, shared and iterated on it.
We published the Digital Outcomes and Specialists framework (an agreement between government and suppliers) on GOV.UK so it's accessible and visible to everyone. To be consistent, not uniform, we did the same thing for G8.
This is something we'll continue doing as we expand the Digital Marketplace and design government contracts for the digital age.
Open relationships with suppliers
The Public Contracts Regulations 2015 requires us to ensure:
fair and open competition
buyers' actions are transparent and proportionate
all suppliers are treated equally and without discrimination
We also want more open relationships with the digital and technology suppliers to government, encouraging and supporting:
collaborative and constructive behaviours
more flexible, digital, agile and transparent interactions
a focus on joint delivery
This is why the Supplier Standard was published earlier this month as a public beta, for consultation until December.
Open opportunities
When public sector organisations want to work with Digital Outcomes and Specialists suppliers, they publish opportunities on the Digital Marketplace that any member of the public can see.
We want the demand for digital and technology services to be transparent. This allows the market to know what government's needs are. This helps stimulate the market, leading to more competition, innovation and growth.
Open procurement and contracting data
I've talked about how we're supporting open data standards in public procurement and contracting. We're working to improve the quality and amount of data that's published by implementing the Open Contracting Data Standard (OCDS).
The OCDS has now progressed to the third 'proposal' stage of the Standards Hub process.
We want to help buyers publish all call-off contracts awarded from Digital Marketplace frameworks, in line with the OCDS, to Contracts Finder.
As we progress with implementing the OCDS, we'll look at how we can openly publish individual 'statements of work' that are agreed between buyers and suppliers after call-off contracts are awarded.
This will support greater transparency in the OCDS 'implementation stage'.
Open to everyone
As with other open source projects, I'd like to encourage collaborative and community-based efforts around a simple idea: user-centred, design-led and open approaches that transform public sector procurements and contracts.
I see this becoming a global collaborative effort, with new features and enhancements to all open source Digital Marketplace assets (and other governments' platforms) being contributed by other like-minded people from around the world.
Stimulating global marketplaces
International trade and investment has many benefits. It fosters greater competition, which spurs innovation and leads to prosperity. That's why the UK government is committed to driving international trade and investment opportunities.
It wants to become even more open with international trade partners, and put the UK at the forefront of global trade and investment.
We know that open, trading economies generate wealth. They create jobs, increase consumer choice and value for money and can lead to higher standards of living. And that's why we're thinking beyond UK markets. We know that a global marketplace won't just benefit the countries we're supporting to develop their Digital Marketplaces. It will fulfil the UK's commitment to promoting UK exports of goods and services. It will also support a growing economy that creates wealth for all, supports jobs and meets our wider national interests.
More in this series
As I've said, this is the second in a series of 6 blog posts about the Digital Marketplace vision. Next time I'll be looking at how we're enabling end-to-end buying that's as frictionless for users as possible.
As always, we'll be thinking out loud by blogging here regularly. Sign up to follow the Digital Marketplace blog to track our progress.