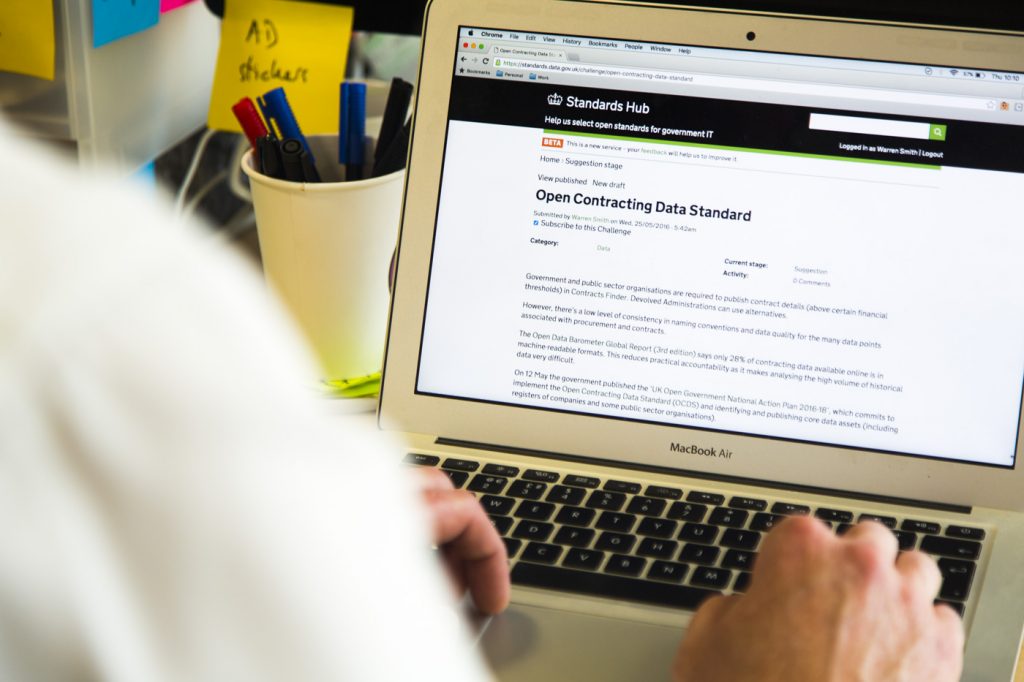 Government spends a huge amount of money through contracts each year. Unfortunately, at the moment, data about these contracts and the suppliers that win them isn't available as easily as it should be.
In many cases, data isn't captured well which means the quality of it is low. However, we're working hard to improve this.
How government sets open standards
The Standards Hub was established to help set open standards in government IT and is based on open standards principles. It asks the public to suggest areas where having open standards could solve user problems when they use government services. Technology experts look at these suggestions and take them on as 'challenges'. The challenges are published so that people can respond and recommend solutions before experts use them to put together a proposal to solve the problem.
The Open Standards Board then decides whether the open standard(s) in the proposal should be adopted across government.
My challenge and how you can help
Today on the Standards Hub, I suggested that the Open Contracting Data Standard (OCDS) could be a solution to government's data problem. If it's adopted, the OCDS will be applied across government and will help to make services better for users. It'll also make them cheaper to run.
The Standards Hub is open to everyone so you can leave a comment on my 'challenge', and see other people's, if you register for a Standards Hub account.
Opening up data: the journey so far
Back in November, I wrote a blog post about the importance of improving and opening up procurement and contracting data in government. In the post I talked about how this was helping us think about and plan developments of the Digital Marketplace.
Six months later on 12 May, the Cabinet Office announced a number of important commitments as part of the UK's Open Government National Action Plan 2016-18. This was the result of lots of collaboration between some really talented and dedicated reformers in government, in the Open Contracting Partnership, and in civil society. A number of these commitments are relevant to how we can improve and open up procurement and contracting data, including:
being the first G7 country to implement the OCDS
expanding our register of company beneficial ownership to include foreign companies who own or buy property in the UK, or bid on central government public contracts
creating a linked ecosystem of registers, starting with data categories for which the user need is greatest (countries, local authorities, schools and companies)
Helping to make local government more transparent
On the same day as the Cabinet Office announcement, the Department for Communities and Local Government (DCLG) also began a consultation on a number of proposals to update the Local Government Transparency Code 2015, including:
increasing the consistency, standardisation and transparency of procurement and contract data
publishing this data in a fixed, open and machine-readable format
Implementing the OCDS in the Digital Marketplace
Open data standards in public procurement and contracting is an important part of our vision for the Digital Marketplace, as we help the public sector buy what it needs to deliver great digital services. Over the coming months we'll start to implement the OCDS.
As always, we'll be thinking out loud by blogging here regularly. Sign up to the Digital Marketplace blog to keep up to date with our progress.