With just under two weeks to go until submissions close for G-Cloud 6, we want to give you a few tips so you feel confident about your application. You have until 3pm on Wednesday 17th December to finalise your submission.
A few pointers
Make sure you submit to the Crown Commercial Service (CCS) eSourcing Portal and the Digital Marketplace Service Submission Portal (SSP) to fully complete your application to G-Cloud 6. There are no wrong answers but all questions do need to be answered.
Remember to complete your application on the SSP by selecting 'Submitted' and then 'Save this Service'. Before the deadline, you can always go back and edit your submitted answer.
The 'eSourcing account ID' is the unique code assigned to your organisation's account when you register on the CCS eSourcing Portal. A screenshot on where to find the eSourcing Account ID can be found in "Attachment 13 G-Cloud6 system user guidance FINAL" of the ITT documentation.
If you want to see the answers to any clarifications queries that have been asked then you can find these in the CCS eSourcing in the ITT Attachments as an excel file called 'G-Cloud VI - Clarification QA'.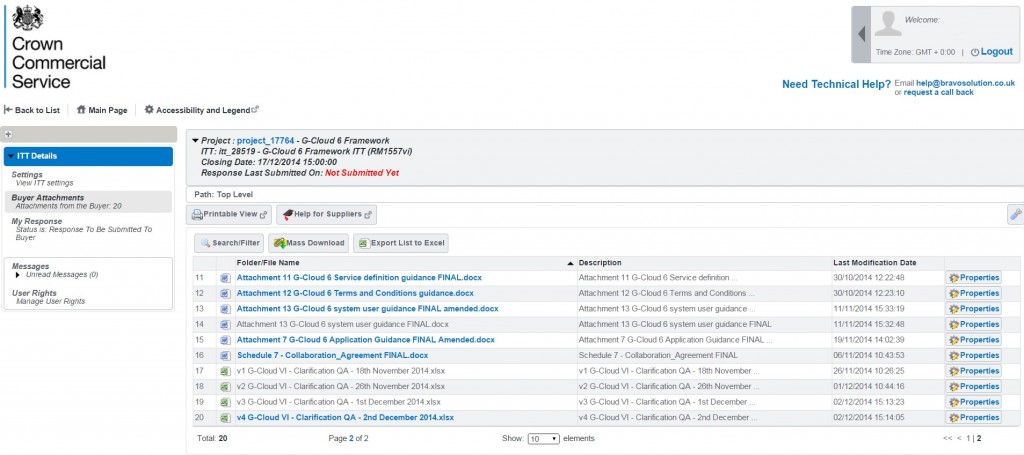 Previous services have not been pre-loaded in the SSP. The new data structure helps you to better describe the features and benefits of your services so that buyers can find what they need to meet their requirements. You will need to resubmit your services in the SSP to benefit from this update.
Remember that all information and documents that you submit via the SSP will be publicly visible.
All existing suppliers have been sent an email invitation to claim their account on the Digital Marketplace. If you are having difficulties logging in or have any queries about the SSP, then please contact us on enquiries@digitalmarketplace.service.gov.uk