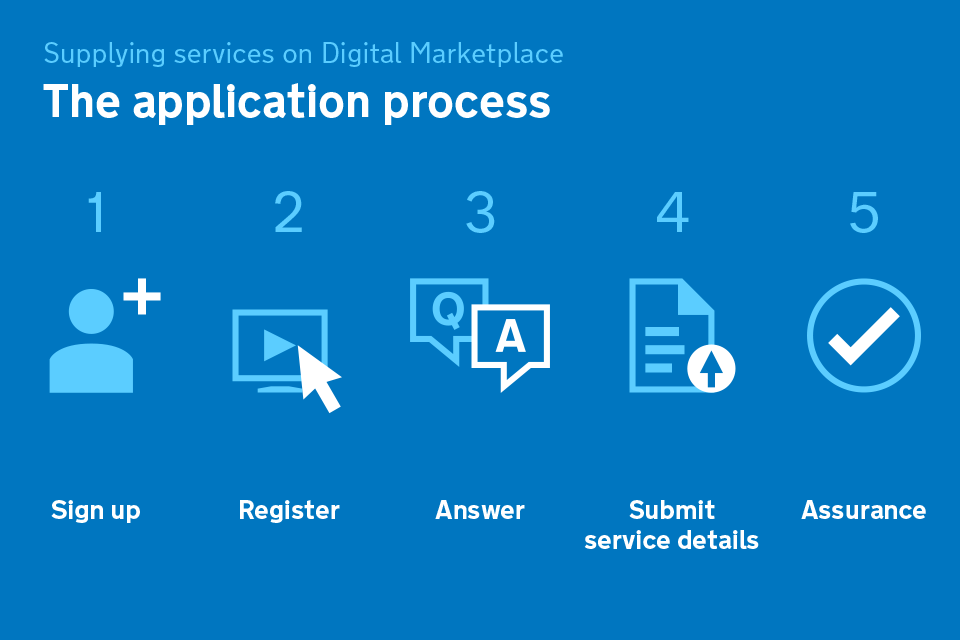 About G-Cloud 6
G-Cloud is a set of frameworks for the public sector to buy cloud-based services through the Digital Marketplace. You can apply to be listed on the G-Cloud framework when an Official Journal of the European Union (OJEU) is open. On average, an OJEU will be open for 6 weeks, once every 6 to 9 months.
Once your submission has been processed, buyers will be able to review your service live on the Digital Marketplace.
The lots have remained the same as previous framework iterations:
Lot 1: Infrastructure As A Service (IaaS)
Lot 2: Platform As A Service (PaaS)
Lot 3: Software As A Service (SaaS)
Lot 4: Specialist Cloud Services (SCS)
G-Cloud 6 is similar to the previous iteration of the framework, G-Cloud 5, in scope but we've updated the guidance and supporting information to help make it easier to apply. These blog posts will also help suppliers to better understand how to structure their data in the Digital Marketplace.
Please note that previous services have not been pre-loaded into the Digital Marketplace Service Submission Portal (SSP). We would encourage all existing suppliers to submit their services to benefit from the new data structure.
Please read through all of the information provided in the Invitation to Tender (ITT).
Submitting your application
You can now submit your applications for OJEU notice for the G-Cloud 6 framework. We can confirm the timetable for this round of submissions.
| | |
| --- | --- |
| DATE | ACTIVITY |
| 6.11.14 | Publication of the OJEU Contract Notice |
| 6.11.14 | Clarification period starts |
| 6.11.14 | Bravo e-Sourcing Portal opens |
| 6.11.14 | Service Submission Portal opens |
| 2.12.14 | Clarification period closes |
| 8.12.14 | Deadline for the publication of responses to Clarification questions |
| 17.12.14 | "Tender Submission Deadline" (3pm GMT) |
| 20.1.15 | Intention to award notification issued to successful and unsuccessful Potential Providers. |
| 21.1.15 - 30.1.15 | 10 day standstill (in accordance with Regulation 32) |
| 2.2.15 | Expected "Commencement date" for Framework Agreement |
The application process
Sign up to the CCS BravoSolution tool
Register your expression of interest on the BravoSolution tool, when the OJEU opens
Answer the invitation to tender (ITT) questions on the BravoSolution tool
Submit company and service details to the Digital Marketplace using the Service Submission Portal (SSP)
Wait for assurance checks to be made on your information. If accepted, these services will be published on the Digital Marketplace when G-Cloud 6 goes live


Any questions you have about the process or the framework should be submitted via the CCS BravoSolution tool.
If you have any technical issues, please email us at enquiries@digitalmarketplace.service.gov.uk

We'll continue to update the blog with additional information as the submission period goes on and as always we're keen to hear your feedback to ensure we can keep improving this process.