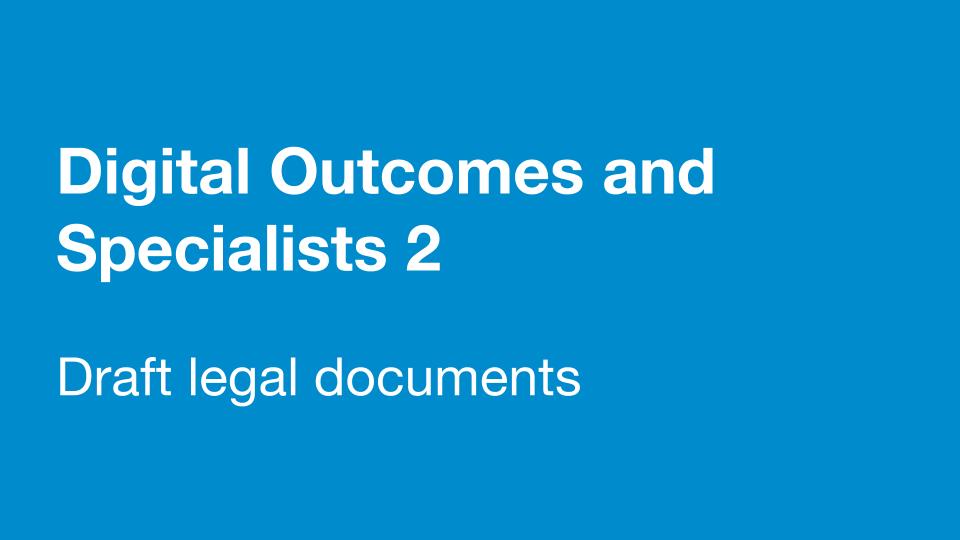 Suppliers should disregard the draft documents in this blog post, they have been updated in another blog post.
In February 2017, the Government Digital Service (GDS) and the Crown Commercial Service (CCS) will open the second iteration of Digital Outcomes and Specialists, giving more suppliers the opportunity to sell their services.
View the draft legal documents
Although suppliers can't apply yet, we're sharing the draft documents now so that suppliers can consider whether to apply for Digital Outcomes and Specialists 2.
These documents are draft and may change. When Digital Outcomes and Specialist 2 opens for applications, we'll publish all the documents on the Digital Marketplace and explain any changes. At that point, suppliers should disregard these draft documents.
The next step for suppliers
Read the documents to help decide if this framework is the right place for you to sell your services. If it is, you can start to prepare your answers and plan who'll provide legal, commercial and technical advice.
Stay updated
We expect that the Digital Outcomes and Specialists 2 framework will open for applications on 1 November 2016 and will close on 6 December 2016. We've published a provisional timetable with the expected dates.
Suppliers who don't have an account on the Digital Marketplace can create one now. Suppliers with an account will be sent an email to let them know that Digital Outcomes and Specialists 2 is open for applications.
If you have any questions about the Digital Marketplace, you can email enquiries@digitalmarketplace.service.gov.uk.
Sign up to follow the Digital Marketplace blog to keep up with all the latest news.