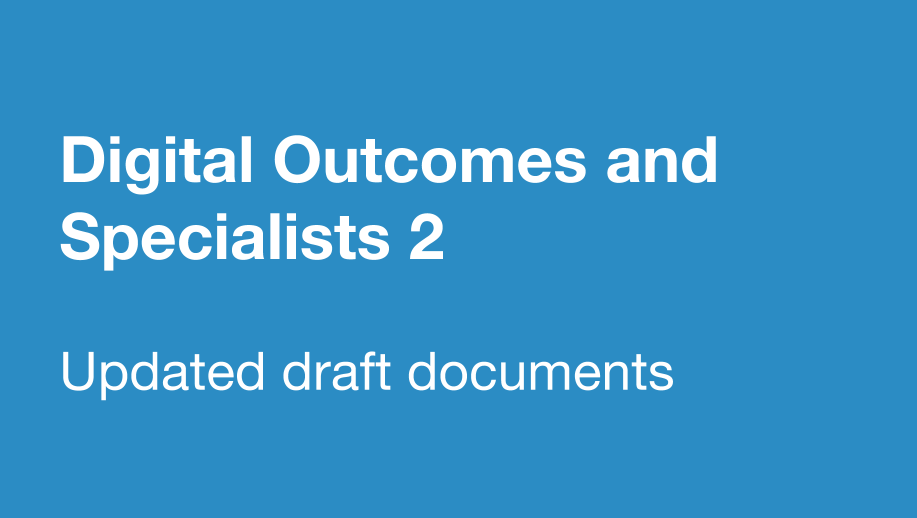 Last week we wrote that we would be opening applications for Digital Outcomes and Specialists 2 a little later than expected. We needed some more time to prepare a small number of changes to the framework terms and conditions.
We expect Digital Outcomes and Specialists 2 to open for applications in the afternoon on 10 November 2016 and close on 14 December 2016.
Why we have made changes
We've made a few changes to the draft documents for Digital Outcomes and Specialists 2.
The changes have been made to clarify:
the relationship between suppliers, supplier staff and buyers
how the term of a call-off contract can be extended
What we have changed
Framework agreement
In section 1, we have increased the initial term of the framework agreement to 12 months. We have also increased the potential extension period of the framework from 9 months to 12 months.
Call-off contract
A new clause has been added to the call-off contract. Clause 28 (Staff Transfers) clarifies that the relationship between a buyer and supplier (and any supplier staff) cannot be an employment relationship.
In part B, a new clause (schedule 3.5) has been added to allow call-off contracts to be extended for up to 25% of the initial call-off contract period. This means that any changes to the deliverables, or delay in meeting the buyer's requirements, can be taken into account.
The pre-conditions to extend any call-off contract period are set out in section 1 of part C (terms and conditions).
Supplier declaration questions
Under grounds for mandatory exclusion, the phrase 'anyone who represents your organisation or a partner organisation' has been updated to 'anyone who represents, supervises or has control in your organisation or a partner or parent organisation'.
View the updated draft documents
We've updated the draft documents to reflect the changes. These documents will be published to the Digital Marketplace when Digital Outcomes and Specialists 2 opens for applications.
Draft framework agreement
This is the agreement between the government and suppliers. It sets out the basic terms and conditions for buying and selling Digital Outcomes and Specialists 2 services.
Draft call-off contract
This is the individual contract between the buyer and the supplier. It specifies the terms, conditions and prices of the services being bought.
Draft invitation to tender
This is the invitation to apply for a place on the framework.
Draft supplier declaration
The questions suppliers must answer to apply to sell their services. To confirm they are eligible to become a Digital Outcomes and Specialists 2 supplier, they must agree to the terms and conditions and provide information about themselves.
Draft service specific questions
Suppliers must confirm that their services have the minimum essential characteristics.
Suppliers' guide
Guidance on the services you can sell, how to apply, how to edit services and how to buy services.
Stay updated
Suppliers can create an account on the Digital Marketplace to be notified when Digital Outcomes and Specialists 2 opens for applications.
If you have any questions about the Digital Marketplace, you can email enquiries@digitalmarketplace.service.gov.uk.