We've been continuously improving the Digital Outcomes and Specialists framework since it arrived on the Digital Marketplace in April. Our development team works in 2 week 'sprints'. These are set periods during which specific work is completed. During each sprint, we work on new features and changes that are prioritised according to the user need and its impact. Because each sprint is only 2 weeks, it also means that we can take in new user feedback and reprioritise what we need to work on.
There have been 5 sprints during the time that Digital Outcomes and Specialists has been available. We also opened G-Cloud 8 submissions and introduced an improved way to return signed framework agreements during this period. But, our main focus has been on identifying and solving any problems that our users have with Digital Outcomes and Specialists.
We have identified and solved several user needs. These changes are now live on the Digital Marketplace. In our next post, we'll be updating you on some of the things we're currently working on to make Digital Outcomes and Specialists better. But first, we'd like to talk about some problems we found, and the ways we have solved them.
The need for buyers to take at least 3 suppliers through to evaluation stage
Before, we told buyers they needed to take at least 3 suppliers through to evaluation in order to buy compliantly. But there was nothing to let users know if they had entered the correct number. We have now introduced automatic validation, which requires the buyer to enter a minimum of 3 suppliers or more.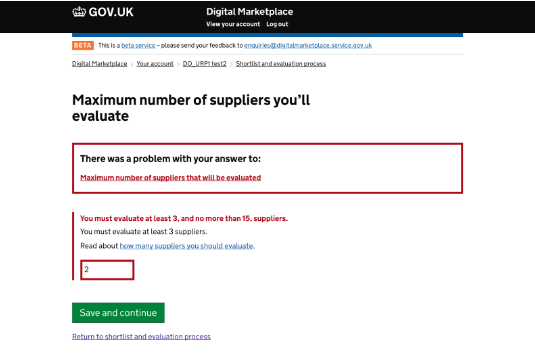 Buyers must ask for a written proposal for outcomes and participants and a work history for specialists
Public sector regulations need written responses to be part of the evaluation. Before, this wasn't clear to buyers. Now, it is made obvious to buyers that they must use one of the mandatory options. For example, "You must ask all suppliers that reach the assessment stage for a written proposal." Suppliers are also automatically told that their response must include one of the mandatory written options. This will be either a written proposal or a work history, depending on the category of service the buyer needs.
It's not clear why suppliers can't apply for certain opportunities
Suppliers can only apply for an opportunity if they were successful in applying for that category on the framework and they selected that specialist role. They must also offer their services in the appropriate location. When they attempted to apply for an opportunity where they didn't meet these criteria, this wasn't clear. We've now made it easier for suppliers to apply for opportunities in all locations across the UK. We've also made the error message more specific, so suppliers understand why they aren't eligible for an opportunity.
Buyers don't know that essential, nice-to-have and proposal criteria are all part of technical competence
Buyers didn't realise that the essential and nice-to-have criteria (which is used to shortlist suppliers) were also part of the overall technical competence criteria. So we changed the 2 separate questionnaires they had to fill out to one single page covering all technical competence criteria. We emailed buyers to let them know about this change, and published a blog about it.
Buyers need to view the details of their question and answer session after they've published their requirements
Once their requirements went live, buyers had to go to the Digital Marketplace list of available opportunities to review it. As details of question and answer sessions are only visible once a supplier logs in, the buyer couldn't review their own session details for themselves. We've made changes so that buyers can now see their question and answer session details within the overview of their requirements in their account.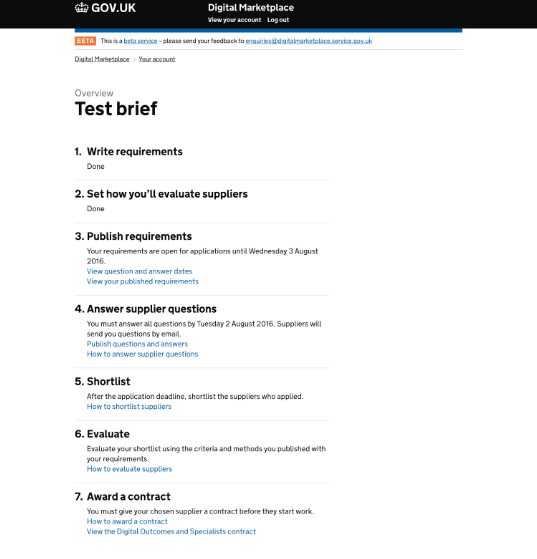 Buyers can't log in using Digital Services 2 (DS2) accounts on the Digital Marketplace
We needed to make it more obvious that DS2 accounts no longer work. All DS2 buyers were sent an email telling them they need to create a new account.
Buyers want to find more than one specialist at once
Some buyers were requesting more than one specialist per specialist requirement. This isn't possible on Digital Outcomes and Specialists. Buyers need to post one requirement per specialist. Suppliers can only offer one specialist per opportunity. When selecting the type of specialist, we now tell buyers that they can only post requirements for one specialist role at a time. For example, if they want to find 3 developers, they must post 3 separate requirements – one for each developer. We are also in the process of updating the message we show to suppliers when they apply for an opportunity to tell them they can only offer one specialist per opportunity.
Buyers need to be contacted quickly if there are issues with their published requirements
We now ask for a phone number when a buyer creates an account. So, if there's a problem with a published opportunity, the user support team in the Digital Marketplace can contact the buyer quickly to discuss it.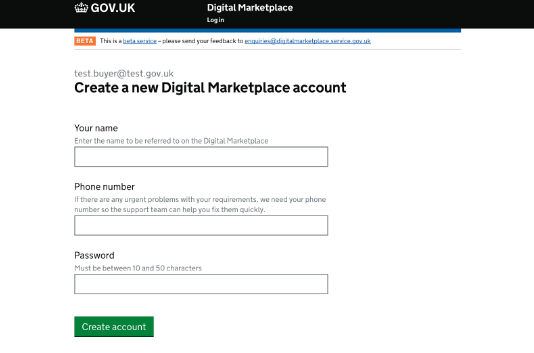 Buyers want to edit their published requirements
Buyers have several options, depending on what kind of changes they want to make to their requirements. We have updated our guidance to make sure buyers understand what these options are, including what they can or can't change without restarting the buying process. Buyers should always use the question and answer box as the default way to clarify minor details. If their requirements must be withdrawn, we will now notify any suppliers who've applied. The buyer can then republish their updated requirements. Suppliers must reapply for the republished opportunity.
Buyers want to be able to find the 'call-off' contract more easily
To meet this need, we have added a link to the contract from the overview page, which buyers use to write and review their requirements.
Suppliers don't have a record of their application for an opportunity and don't know what the process is after they apply.
After applying for an opportunity, suppliers are now shown a page with their answers. They also get an overview of what happens next in the shortlisting and evaluation stages. Suppliers will be able to view this page again by following a link to "view your application" from the opportunity page.
There's still more work to do. But for now, if you have any feedback you want to share with us about the work we have carried out, or from your own experiences on Digital Outcomes and Specialists, we'd love to hear from you. Let us know your thoughts, so we can continue to improve the Digital Marketplace.
Read more about our work, in Part Two of this post