User feedback is an essential part of our work to improve Digital Marketplace for both buyers and suppliers. In our last post, we spoke about some of the things we've already done for our users to help make things better.
Today we'd like to talk about some of the things that the team are currently researching, designing, or developing to make the user experience better. This work will continue to be shaped by user feedback as we go.
Buyers don't want requirements to be open for applications for 2 weeks when they need a supplier to start quickly
Buyers will soon be able to choose whether their digital specialist requirements will be open for applications for either 1 or 2 weeks.We decided to test this solution initially for digital specialists only and will get buyer and supplier feedback on the approach. We will use the feedback to look at extending it to digital outcomes and user research participants requirements, or evolving the approach.
Buyers need guidance on how to shortlist at the point at which they view the list of suppliers who have applied
We've found that buyers find the shortlisting process difficult. They aren't always aware of the guidance available on how to shortlist. So we're exploring ways that we can share this guidance with buyers as soon as their requirements close for applications. We haven't decided how we'll do this yet but are looking at how we might to provide this information by email.
Suppliers want to be able to filter the list of opportunities
As the list of opportunities grows, suppliers need a way to find those which are relevant. Buyers are also interested in seeing requirements posted by other buyers to help them write their requirements. We will enable users to filter the list of opportunities by category (outcomes, specialists, user research participants) and status (open, closed). We may add additional filters in future, depending on the feedback we receive.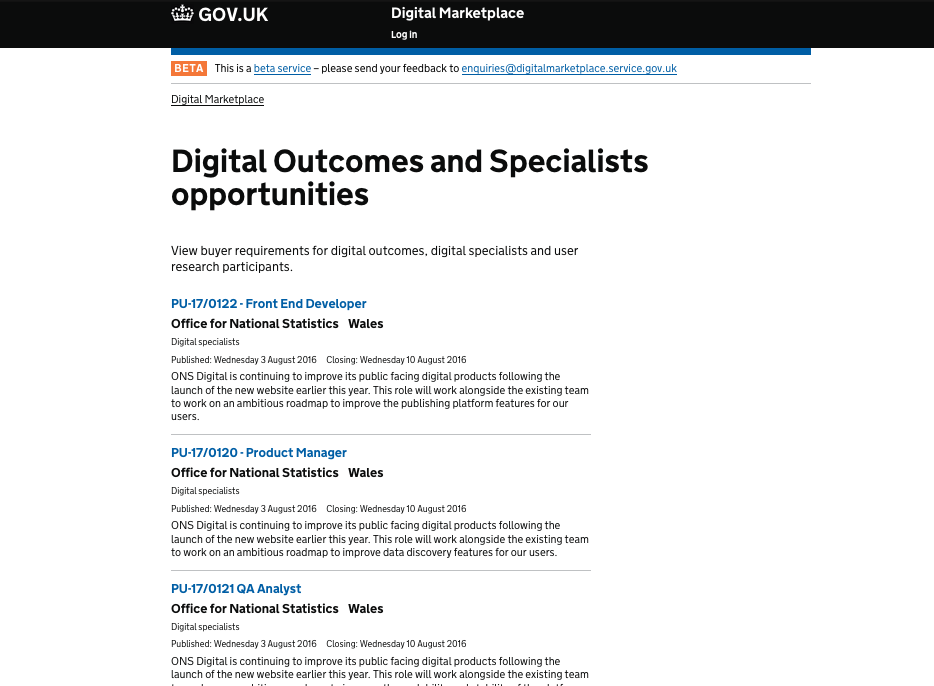 Suppliers need to view and change the services they can provide
Suppliers cannot currently view the details of the services they submitted when applying for Digital Outcomes and Specialists. We are aiming to change this. We will also help the user support team in the Digital Marketplace by making it easier and quicker to assist suppliers to update their service information. We'll give our user support team the functionality to view and update supplier services, once they have confirmed that these changes are allowed by the Digital Outcomes and Specialists framework agreement.
Buyers need to better understand what cultural fit is
Buyers have told us that cultural fit is important to them, but they find it hard to express it in an objective way so that they can fairly evaluate suppliers. We are updating our guidance to help buyers capture cultural fit in a way that makes sense to them, and can be objectively and fairly evaluated.
Buyers need to know what terms and conditions are already in place for user research participant recruitments
Buyers aren't aware of the Digital Outcomes and Specialists framework terms that suppliers have already signed up to, so they are replicating these in their own requirements. We will provide buyers with clearer visibility of these terms, potentially in the guidance and as part of the flow, when they are writing their requirements.
Buyers need shortlisting to work better for them
Work has begun on a new approach to make the shortlisting process quicker, and we will be blogging with more details on this soon. There are a number of different elements that we are researching and testing to help to manage the number of shortlisted suppliers, reduce the timeframes and give evidence of suppliers' capabilities at an earlier point in the process.
What's coming
Our list of prioritised needs (for delivery in the next 2-3 months) is informed by our user research and 3 broad themes: making things faster, making the process clearer and putting more of the buying journey online. This list will no doubt change as we continue to get more insights from user research, data and customer feedback, but currently the list is as follows:
we need to measure and report on spend through the Digital Marketplace

we need to bring the hiring of user labs category online

the call off contract needs to be simplified and less confusing

we need to make it clearer to buyers how to set their weighting and scoring criteria for shortlisting and evaluation

buyers and suppliers want the timeline for whole buying journey, including the evaluation stage and start date, to be clearer and more realistic

suppliers want to be notified of new Digital Outcomes and Specialists opportunities
We need to hear from you
If you have any feedback you want to share with us about our priorities and the work we have planned, or from your own experiences on Digital Outcomes and Specialists, we'd love to hear from you. Let us know your thoughts so we can continue to improve the Digital Marketplace.