On 6 November 2014, a year ago today, we switched on the Digital Marketplace and turned off the CloudStore. The Digital Marketplace became G-Cloud's new home and since the beginning of 2015, Digital Services and the Crown Hosting service have lived alongside it.
Our aim, along with our colleagues at the Crown Commercial Service (CCS), has always been the same: for buyers and suppliers to have one place to go to find what they need to buy to build world-class digital services. However, with a wider spectrum of services available, the 'Digital Marketplace' became a more accurate name.
A time to reflect
On the Digital Marketplace's first birthday, I'd like to look back and talk about some of our progress. The programme gives public sector buyers the right tools and support to buy technology in a legally compliant way. It has also reduced the time it takes to buy digital services from months to days.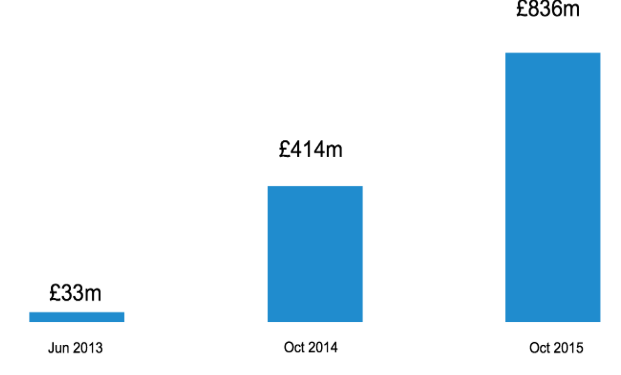 It's worth highlighting that:
the total spend since the programme began is £836 million. Find a detailed breakdown on our sales page
of that total spend, £418 million (50%) of those sales have been made since the Digital Marketplace was launched a year ago
635 suppliers have made one or more sales through the Digital Marketplace
Rapid growth since the beta launch
Since we launched the Digital Marketplace public beta a year ago:
261 of the 635 suppliers have made their first sale. Of these, 201 were SMEs
351 of the total 947 public sector organisations who have bought through the programme have done so for the first time
Opening up the market
We've made it easier for suppliers of all sizes to work with the public sector. In September 2015, sales through the Digital Marketplace totalled £44 million, the second highest monthly sales ever. Half of those sales were from SMEs. We're making it easier for innovative suppliers to win more work across the public sector through simpler application processes.
This diagram shows the growth and location of suppliers between 2009 and 2015.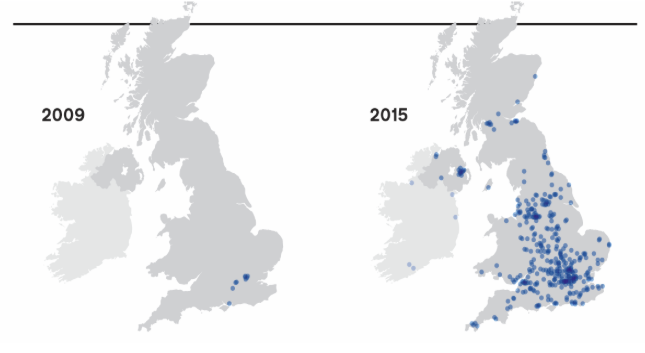 A new way of buying
In collaboration with CCS and the Government Legal Department, we're working hard to make it simpler, clearer and faster for buyers and suppliers to deliver successful digital projects.
Part of this is making contracts simpler to understand and quicker to read to encourage smaller businesses to apply. We've spoken before about how we plan to create simpler, clearer contracts for the redesigned Digital Services (which has now been replaced by Digital Outcomes and Specialists). We've made a good start putting the legal documents into plain English, and we'll continue to look at the complexity of the language.
Looking to the future
Over the coming year, we'll build on the successes we've achieved and go further faster. We will:
continue to work with CCS to make more digital and tech frameworks available through the Digital Marketplace
design those frameworks in a way that continues to open up the UK public sector market to new and innovative suppliers, increasing competition and driving down prices
build new tools to make it easier for buyers and suppliers to use the Digital Marketplace
continue our buyer engagement and education across central government and the wider public sector. We've identified where our support is most needed and how we can help, we'll be updating you on this in a later blog post
Thanks from the team at Government Digital Service (GDS) and CCS for your support over the past year we look forward to the challenges and successes of the year ahead.