The aim of the Digital Marketplace is to make it simpler, clearer and faster for those in the public sector to buy what they need. We also want to make it simpler and faster for suppliers to apply to a framework to supply government.
Single system application
For Digital Outcomes and Specialists, all supplier applications will go through a single system on the Digital Marketplace rather than the Bravo eSourcing system that was used for Digital Services 2 (DS2). This will make the process simpler so that you can complete the application faster.
Your Digital Marketplace account
Before you can start your application, you need to log into your existing Digital Marketplace account or create a new account. To create one, you'll need a Data Universal Numbering System (DUNS number). As soon as Digital Outcomes and Specialists opens for applications, everyone with an account will receive a notification email.
Services you can supply
Digital Outcomes and Specialists applicants should apply if they can provide services that come under one of the following 4 categories:
Digital outcomes, eg a discovery phase for an online billing application
Digital specialists, eg service managers or developers
User research studios
User research participant recruitment
You can find more details of these categories in our post Digital Outcomes and Specialist: An overview.
Here's how we expect the application page to look: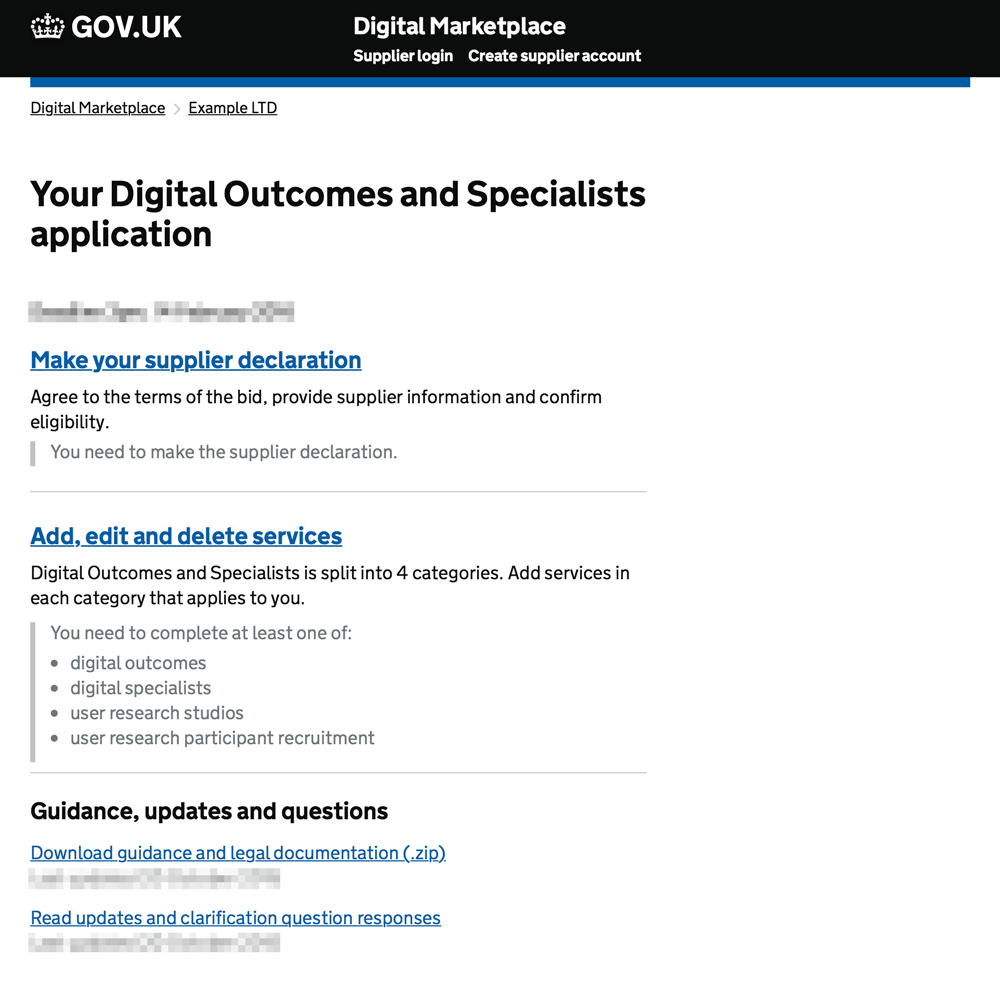 Making the supplier declaration
Suppliers must make the supplier declaration to be eligible to provide services to the public sector. They need to:
agree to the framework terms
answer questions to establish grounds for mandatory exclusion
answer questions to establish grounds for discretionary exclusion
confirm how they will work with government
confirm how they will work with digital
provide basic supplier information
Answering service-specific questions and adding services
Suppliers need to submit information on their service(s). Depending on the category you'd like to supply services under, you may need to answer service-specific questions. You'll also be asked to include information, for example, where in the UK you can provide services as well as pricing details.
When you add a service it will be saved as a draft. When you've answered the mandatory service-specific questions and provided the minimum service information, you can mark your service as complete. You can edit or delete 'completed services' until the submission deadline.
Submitting services for consideration
All services that are marked as complete will be automatically submitted for approval on deadline day, providing you've also made the supplier declaration.
Suppliers can check the status of their application in their dedicated Digital Outcomes and Specialists dashboard in their Digital Marketplace account.
Communication and clarification questions
We'll email registered suppliers all communications relating to the application to Digital Outcomes and Specialists. Suppliers who register later on in the application process will be able to access all previous communications on the Digital Marketplace.
Suppliers should send any questions about Digital Outcomes and Specialists to Crown Commercial Service (CCS) through their Digital Marketplace account. These clarification questions will be answered on the updates page so that all registered suppliers can see them. We'll notify anyone who has registered their interest when we've published new clarification questions. This will be in batches rather than one question at a time.
Multiple contributors can work on an application
We've found that suppliers often ask several team members to work on their applications. We've introduced a multiple login feature so that more than one person can work on an application at the same time. Each person will have a personal account under a main supplier account.
Difficulties creating or accessing your account
Please email enquiries@digitalmarketplace.service.gov.uk if you have any problems creating or logging into your Digital Marketplace account. State the email address you'd like to use, your company name and your company DUNS number (if you know it).
Please note that even if you applied to DS2, you might not have a Digital Marketplace account because those applications went through the Bravo eSourcing system.