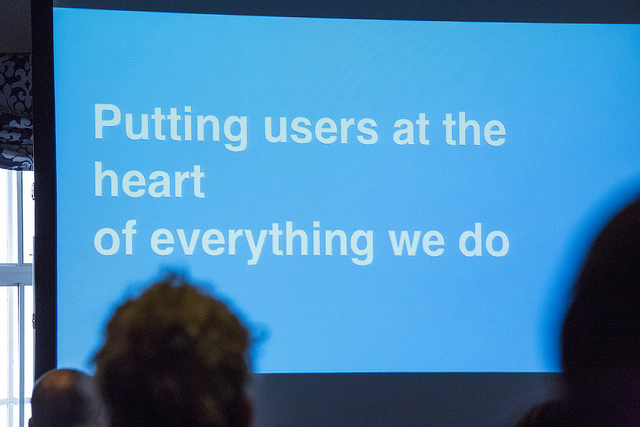 I work on the Digital Marketplace team. Our mission is to help the public sector buy what it needs to deliver great digital services. We've been applying GDS design principles to a very important but long-neglected area: government procurement (buying).
I recently spoke about this at the Government ICT 2.0 conference. I said that delivering great digital services means thinking about buying in a new way. The speed with which digital projects need to move means we need faster and more agile ways of buying goods and services. We've been working with the Crown Commercial Service and the Government Legal Department to bring government procurement into the digital age.
Whether you are buying cloud-based services or a box of staples, if you work for government and you need to buy something, there are certain rules you must follow. These rules make sure that government procurement is cost-effective, fair and transparent but they can make the buying process feel time-consuming and complicated.
'Frameworks' have emerged as a way of helping make the buying process easier for buyers so they can spend less time and money on individual procurement contracts. They set out the standard terms under which individual contracts can be awarded to suppliers for particular types of goods or services.
We're designing and delivering frameworks within the Digital Marketplace service using the GDS design principles. This includes how suppliers apply to be on frameworks as well as the subsequent government buying journey.
Applying GDS design principles to government buying
Delivering great digital services often means questioning long-held assumptions. Thinking about buying in a new way starts with thinking about users and their needs.
As one example, we have applied GDS design principles to thinking about how to invite suppliers to apply to be on a framework.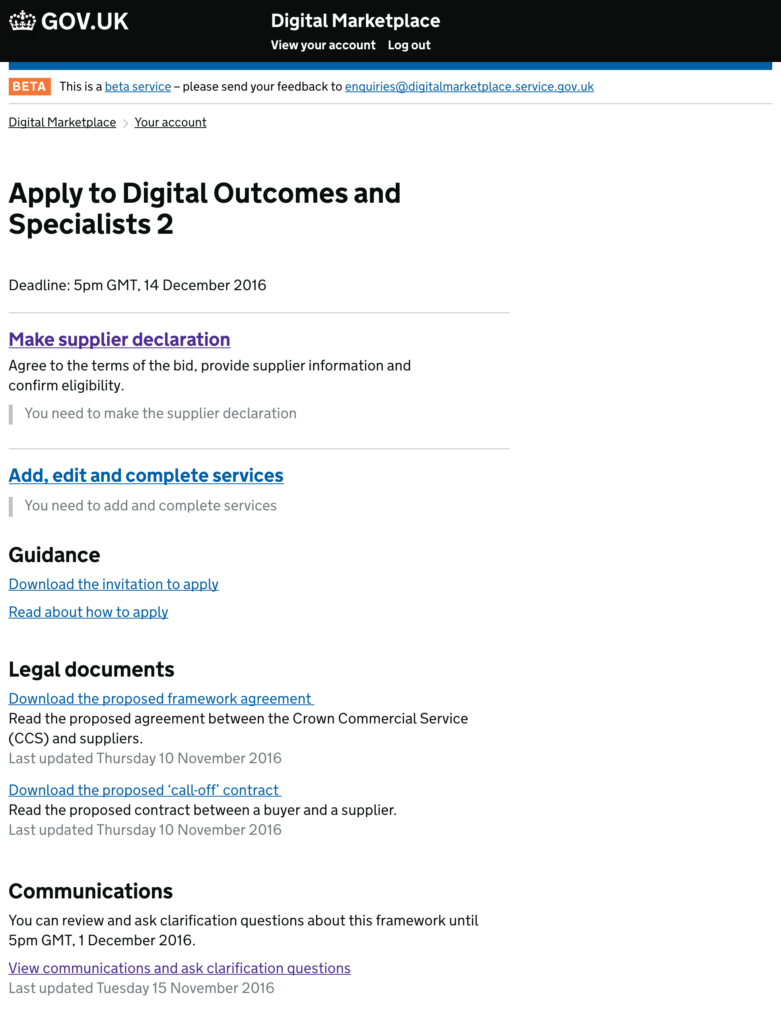 The image above shows how Digital Marketplace suppliers apply to be on the G-Cloud and Digital Outcomes and Specialists frameworks. When we started, our approach of user needs first was considered risky. We had to make sure we could demonstrate our compliance with the Public Contracts Regulations 2015. We've now opened and awarded three frameworks on the Digital Marketplace.
We're learning and iterating every time we open applications for a framework. Our suppliers now consider this application process to be normal.
Simplifying contracts
We're also encouraging a user-centred approach to contract design. I talked about the hard work we're leading to make it simpler to create new user-centred and digital procurement templates and model contracts, for use across government.
We started this work on the Digital Outcomes and Specialists' framework agreement and call-off contract. We're continuing this work by streamlining the framework agreement signing process for suppliers and the countersigning process for the Crown Commercial Service.
The aim is to allow fast, legally compliant, end-to-end buying for digital and technology services, that's as frictionless as possible for our users.
Helping create a more diverse supplier base
With the addition of Digital Outcomes and Specialists, there are now nearly 3,300 suppliers on the Digital Marketplace. Of these, 91% are SMEs and the geographic coverage across the UK is growing with every iteration. The public sector has now bought over £1.5 billion worth of services through the Digital Marketplace.
We want to stimulate a more competitive marketplace that contains the right range of products and services, from the right suppliers, that meet the needs of the public sector.
Making procurement more transparent
In addition to making the legal and guidance documentation easier and simpler for buyers and suppliers, we're also identifying ways to open up procurement data.
On the Digital Marketplace, we publish all Digital Outcomes and Specialists opportunities for suppliers in the public domain. This means that the demand of government is transparent to suppliers, other government buyers and the general public.
We'd like to help our buyers automatically send their contracts to Contracts Finder. We're committed to helping the Crown Commercial Service implement the Open Contracting Data Standards as a positive way to disclose details of contracts and government buying activity.
By making data and contracts more accessible to businesses and the public, we can help government become more open about how it's spending money.
Making things reusable and shareable
In line with other cross-government platforms, we're working to make the Digital Marketplace scalable, reusable and shareable.
We've been starting to identify common patterns in the frameworks we have hosted and awarded on the Digital Marketplace. We're now looking at how we can help to accelerate the transformation of public sector procurement.
We'd like any public sector contracting authority to be able to open and award their own frameworks on the Digital Marketplace. Until then, we'll continue to deliver framework iterations for G-Cloud and Digital Outcomes and Specialists with our colleagues in the Crown Commercial Service.
We've recently helped the Australian Digital Transformation Office release their own Digital Marketplace public beta. They drew on our open-source assets and our design patterns and we want to learn from their experiences.
Get involved
You can track our progress by signing up to the Digital Marketplace blog. We talk to buyers and suppliers all the time, sometimes in our user lab in London, or we will come to your office. Please join us and be part of the conversation.