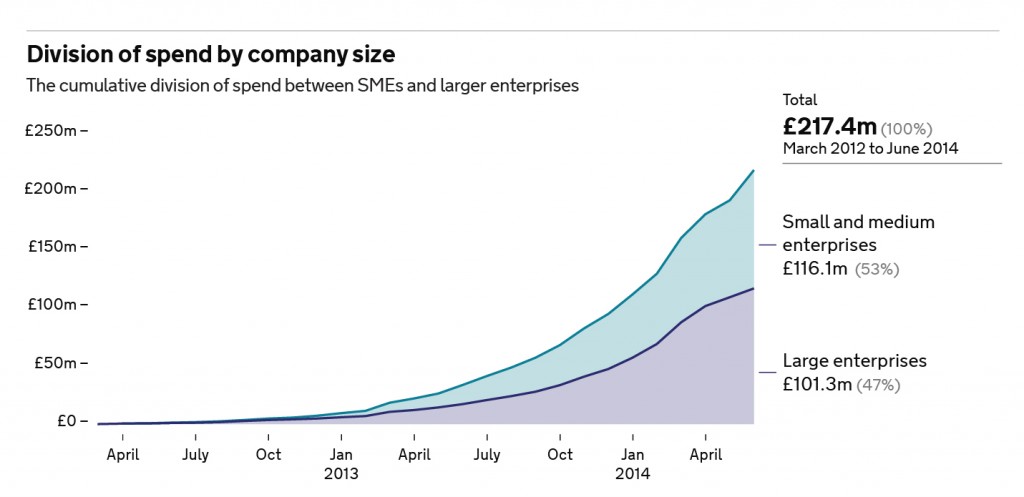 I am delighted to be able to tell you that the June G-Cloud sales figures have gone through the £200m barrier with a total spend to date of £217,455,674.39. 53% percent of this (£116,133,932.17) was with SMEs. What is even better news is that the average monthly spend for the last quarter is now around £20m. It is thanks to a great team and continued backing from previous leads such as Denise McDonagh and Chris Chant.
Frameworks with wider benefits
At the same time, It is important to remember that G-Cloud is more than just about sales. Both G-Cloud and the Digital Services framework are programmes with the the potential to radically transform the way that central government and the wider public sector deliver their digital services. We are gathering some great case studies which we hope to publish soon showing the full potential of what can be achieved.
We already know that the Royal Borough of Windsor and Maidenhead will be the first UK local authority to move to an entirely cloud-based infrastructure, and spent just £100,000 setting it up. They are using a number of solutions including those bought through the G-Cloud. This support from local authorities goes to show that G-Cloud really is for everyone.
In addition to the benefits being seen within the public sector, SMEs are letting us know that their businesses are continuously growing both in revenue and employees. Not only have these frameworks reduced the barriers of entry for working with government but are delivering real growth to the economy.
Please do let us know of any great examples you are aware of so that we can include them.
Digital Marketplace
The Digital Marketplace is proving that building services based on user needs means you can dramatically improve the way buyers find what they need. The private beta launched on the 22nd July. The Digital Marketplace will eventually replace both the CloudStore and the Digital Services Store, and be one place for the public sector to buy digital and IT services. It will go into public beta in the Autumn with the G-cloud 4 & 5 catalogues.
The next challenge
I was asked at a Civil Service Live panel session what I saw as the biggest challenge over the next 12 months. This is, without a doubt, getting the message further across both central government and the wider public sector about the truly transformational benefits that Cloud First can deliver. It is now up to us to show that the Digital Marketplace can make it clearer, simpler and faster to do this.