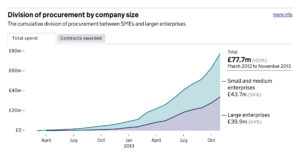 November has seen yet another new record for G-Cloud sales, with spends reaching nearly £15m. That means total sales are now £78M. It's great news for G-Cloud, and represents yet another great month for this framework and SMEs.
Looking at the numbers
Sales to SMEs is still at 56% and spend from the Wider Public Sector has also grown to 37%. While we recognise there still a lot of work to be done, it's good to see that the awareness and usage of the framework it growing for both buyers and suppliers.
A good year
Having the sales figures grow so much over the year, demonstrates that the awareness of G-Cloud and its reach has really begun to take off. On top of this we have plenty planned for the New Year to keep this upward trend going, including regional buyer and supplier events, new supporting guidance and improvements to the CloudStore. We'll post more information closer to the time to let you know when these are going ahead and how we're looking to make the CloudStore experience better for everyone.