Last month, we told buyers and suppliers that new G-Cloud features will be available soon. The first of these features is now live and G-Cloud suppliers can remove the services that they're no longer able to provide.
How to remove services
You can see a list of your G-Cloud services in your Digital Marketplace account. To remove one, select it, scroll to the bottom and click the 'remove service' button shown below.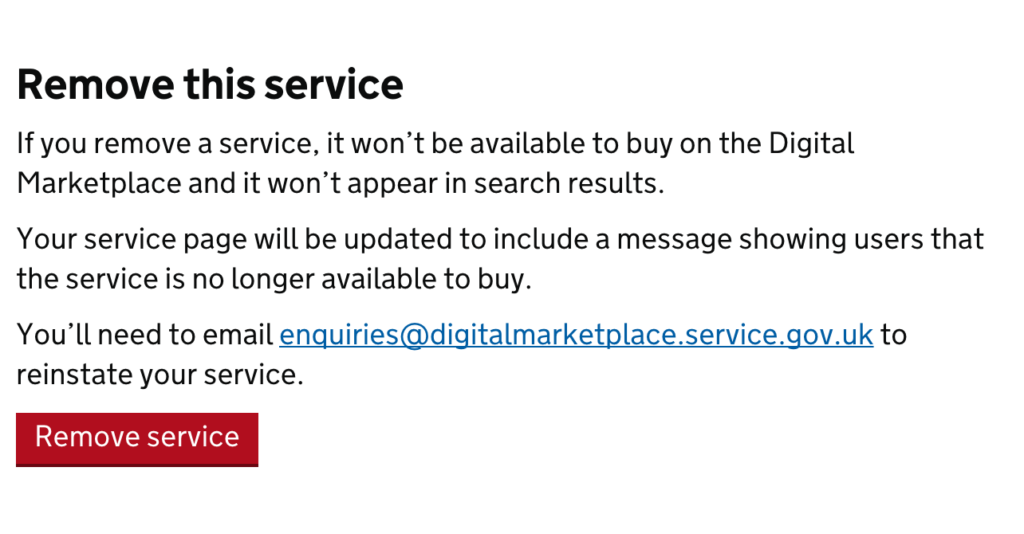 When you've done this, it won't come up in Digital Marketplace search results anymore but you'll still be able to see the service details in your account.
What this means for buyers
If a buyer enters into a call-off contract for a service that a supplier then removes, the contract is still valid. The URL of the service will remain public but we'll add a banner on the page stating the date when the supplier made the service unavailable.
Putting a service back on the Digital Marketplace
If you've removed a service and want to restore it, email enquiries@digitalmarketplace.service.gov.uk with the details, including the service ID.