When it comes to content, our users come first. That's why the user research we do at Digital Marketplace is so important. It's given us the information we need to carry out a content mapping exercise that will help us create meaningful content that meets specific, and pressing, user needs.
It all starts with 'personas'
Personas are fictional characters we've created based on our research data. They represent the main traits of Digital Marketplace buyers and suppliers. For the purposes of the content mapping process, we simplified them into four types:
technology-focused buyer
procurement-focused buyer
small supplier
large supplier
Articulating user needs
Feedback from user research, customer support, social media and the Digital Services discovery project, showed us that there are some gaps in the help we currently provide. We listed common questions that each of our personas have.
Buyers with more technical knowledge often have questions around:
procurement language
how to evaluate
what frameworks are
Buyers with more procurement experience have questions about:
how agile works
what certain technical terms mean
whether the procurement process has been robust
Smaller suppliers often want to know:
what frameworks are
how they can form consortia
what supplying to government entails
Larger suppliers have questions about:
who they can work with
what reporting information they can access
which frameworks they can be on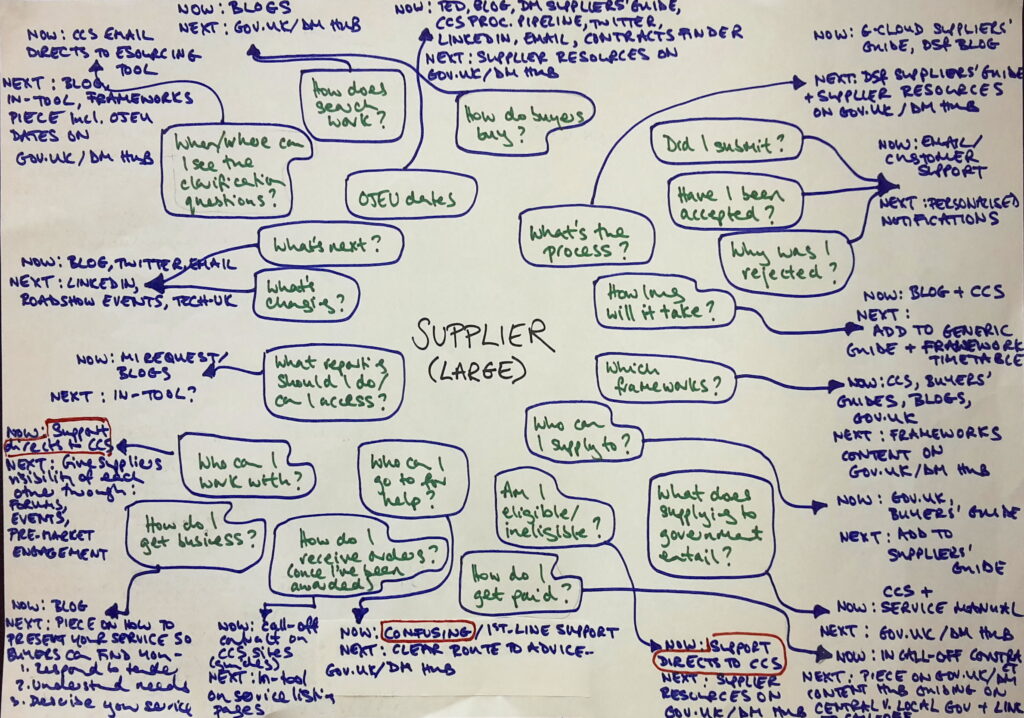 As well as these questions, our personas also want to know who to go to for help. A clear route to consistent advice is one of the primary needs we want to address.
Now and next
Once we'd identified our personas' questions, we mapped out existing content that answers users' questions and where this, plus any future content should live.
The results so far have shown us two things.
The guidance we provide doesn't sit in one place so buyers and suppliers don't have a single place where they can go to find answers.
We're not answering enough of our users' questions.
Because of our findings, the Digital Marketplace team will be working to create content that gives users more of the information they need. Over the next few months, we'll also start to build a single content hub where buyers and suppliers can find help quickly and easily.
If you're a buyer or a supplier, please email enquiries@digitalmarketplace.service.gov.uk to let us know what kind of information would be helpful to you.
Sign-up to the Digital Marketplace blog for updates and follow us on Twitter @GOVUKdigimkt