For some time, the Digital Marketplace has been synonymous with G-Cloud. However, our ambition has always been for the Digital Marketplace to make it clearer, simpler and faster for those transforming public services to buy what they need. To accomplish this the Digital Marketplace can, and will, support several frameworks. G-Cloud was just the first of these, simplifying and reducing timeframes for buying commodity cloud services.
The Digital Services framework
The Digital Services framework was set-up to give the public sector easy access to suppliers of all sizes, with the right digital capabilities, to help them build public services that are digital by default and focused on user needs. The Digital Services Store, which provides buyers with access to this catalogue of digital specialists and capabilities, can now be accessed from the Digital Marketplace.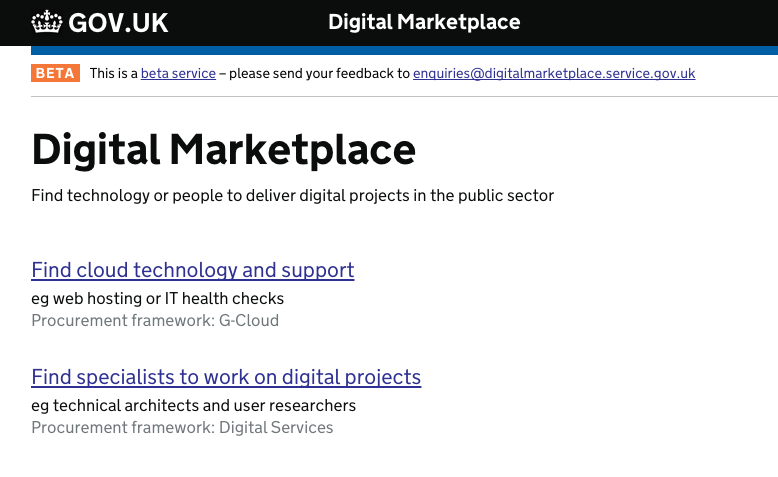 Now buyers who are looking for cloud services or specialists to deliver digital projects have one place to go to find what they need: the Digital Marketplace. In its first iteration, users will be directed into one of the two distinct stores, depending on their needs. The managed service is still mandatory for central government buyers using the Digital Services Store and the store remains open to public sector buyers only. As we progress and learn more about our users' responses to these changes, we expect the overall experience to become more integrated and driven by need, rather than framework.
Looking forward
There are plenty of lessons ahead for us to learn from hosting two frameworks on the Digital Marketplace, which will put us in a good position to bring on the redesigned Digital Services framework towards the end of 2015. This will also prepare us for other digital and IT frameworks that are currently being discussed as contenders to join the Digital Marketplace in the future. All of this supports our Digital Marketplace strategy to bring about lasting change to the way that government and the wider public sector think about, and commission, digital.