We've been working on providing buyers with better ways of finding the services that they are looking for on the Digital Marketplace. Feedback, user research and behaviour patterns emerging from our analytics have led to the most recent enhancements:
Search
Search now indexes the following service information:
Title
Description
Features (new)
Benefits (new)
Supplier name is not indexed, despite being requested by suppliers who wish either to reference their services on the Digital Marketplace to interested parties, or simply want the reassurance that their services are live and available. The rationale behind this is that the primary purpose of search is to allow public sector buyers to find services that meet their requirements, in line with procurement regulations.
Buyers of cloud services on the Digital Marketplace must use search, filters and service descriptions in order to find appropriate results that meet their needs. The final selection will be made on the basis of being the best fit (from a technical and quality perspective) and finally on price. The lack of ability to search by supplier name ensures buyers follow due process and helps public sectors buyers be compliant by default.
We realise suppliers have a need to find their services or reference them on the Digital Marketplace. We will be addressing this through supplier listings and pages. We'll engage suppliers and buyers in the development of these and build this functionality over time.
Filters
Results can be narrowed down further in the left-hand menu by selecting:
Category (i.e. PaaS, IaaS, SaaS, SCS)
Sub-category
Filters (updated)
G-Cloud 6 submissions contain a far broader, and more relevant data set which can be used for refining results lists. However, given that G-Cloud 5 and G-Cloud 6 are running in parallel, it isn't possible to fully implement these filters without the risk of excluding G-Cloud 5 services from the results.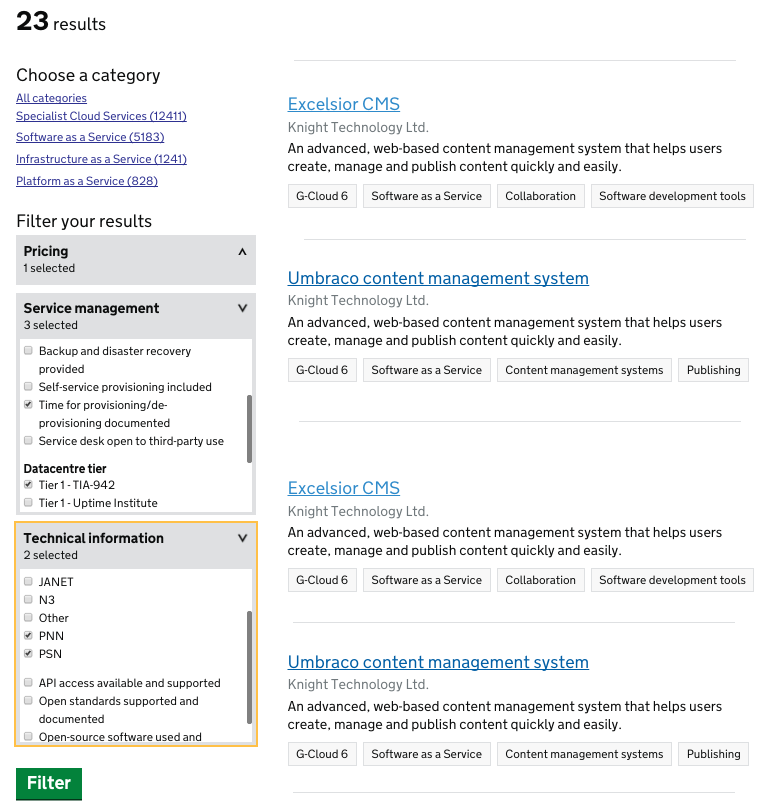 We know from analytics that only 1% of users were filtering using the old G-Cloud 4 and 5 filters. User research uncovered several reasons why this was the case. The new filters have extended the options available, but only insofar as the filter applies to both G-Cloud 5 and C-Cloud 6 data.
In the interests of fair and open competition for all suppliers on the Digital Marketplace, the filter options ensure G-Cloud 5 and G-Cloud 6 results are treated equally. Once G-Cloud 7 goes live, the full advantages of smarter filters and in-depth data will be made available for G-Cloud 6 and G-Cloud 7 suppliers.
Additional filters will be added for IaaS and PaaS in the next couple of weeks. Plus we will continue to test and analyse the use and performance of filters and develop them as a result of our findings.
Feedback
Please contact us if you have any feedback you want to share regarding the filters; or follow this link to get involved in our user research.