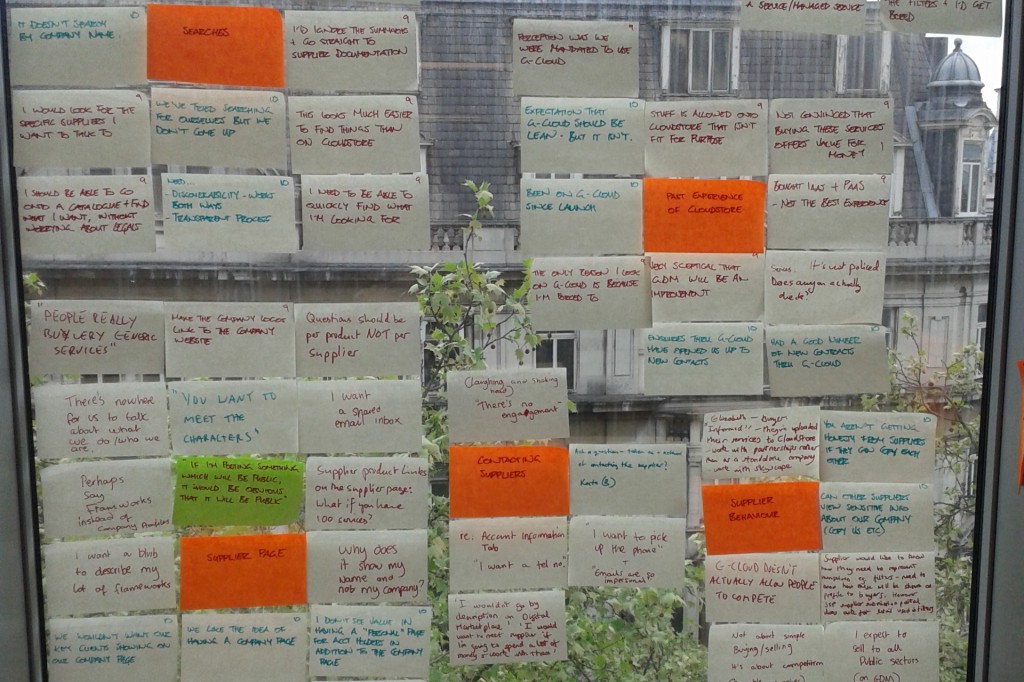 On Thursday 17th April, we invited three suppliers and three buyers to take part in a user research session to test the current build of the Digital Marketplace. Two out of three buyers hadn't used the CloudStore before, relying on colleagues or other methods to make the procurement. And two of the three suppliers were familiar with G-Cloud and the current CloudStore.
For context, and for completeness, the current Digital Marketplace build uses the full CloudStore and, therefore, G-Cloud 4 and G-Cloud 3 catalogues.
We want the same thing
Buyers and suppliers ultimately share the same goal - for cloud services to be easily procurable. But they're approaching it from opposite angles - one wants to find and buy services while the other wants to be found and to sell. It's no more complicated than that. This polarity was very evident in the feedback we received, although there were several common themes.
Is the price right?
The way in which prices were shown as raised as an issue by five out of six users. Buyers felt that the quoted prices weren't representative of the final cost of the service, and one one supplier - having searched for their own services - was confused by their own pricing of that service. This shows a need to provide clearer guidance and educate suppliers about how they market their own services on Digital Marketplace. As Katie reported in her last blog post, what things are going to cost is a major consideration for buyers and a critical point of competition.
Creating new opportunities
The buyers we spoke to preferred to speak directly to suppliers and draw on their own experiences of dealing with them. More experienced buyers relied on past experience of the CloudStore when shaping their opinion of the Digital Marketplace. In contrast, two of the three suppliers who had previous experience of CloudStore both stated that it had opened up new business opportunities and contacts for them.
It's good to talk
Our three buyers wanted to be able to contact suppliers directly and, preferably, by telephone - they didn't feel that emailing or using the Questions section we were testing - provided enough engagement. The speed at which they might get the feedback they wanted appeared to be their primary concern. "I'd be inclined to write down my results rather than log in - it'd be much quicker". It's clear we need to add value by making login easy and offering additional benefits such as project tracking.
More than just a store
Ivanka has written this post about the fact that our users need to be able to discover and learn, not just buy, and one of the challenges we face is presenting an online marketplace that invites people to do more than gather sales information. We might think that a particular piece of functionality would be useful based on our understanding of people's needs but, if it's unfamiliar or appears to cause extra work, people might be reluctant to even try it out!
Research is ongoing and we have sessions every two weeks. To join in, sign up here. It will really help us improve and refine The Digital Marketplace for both buyers and suppliers.