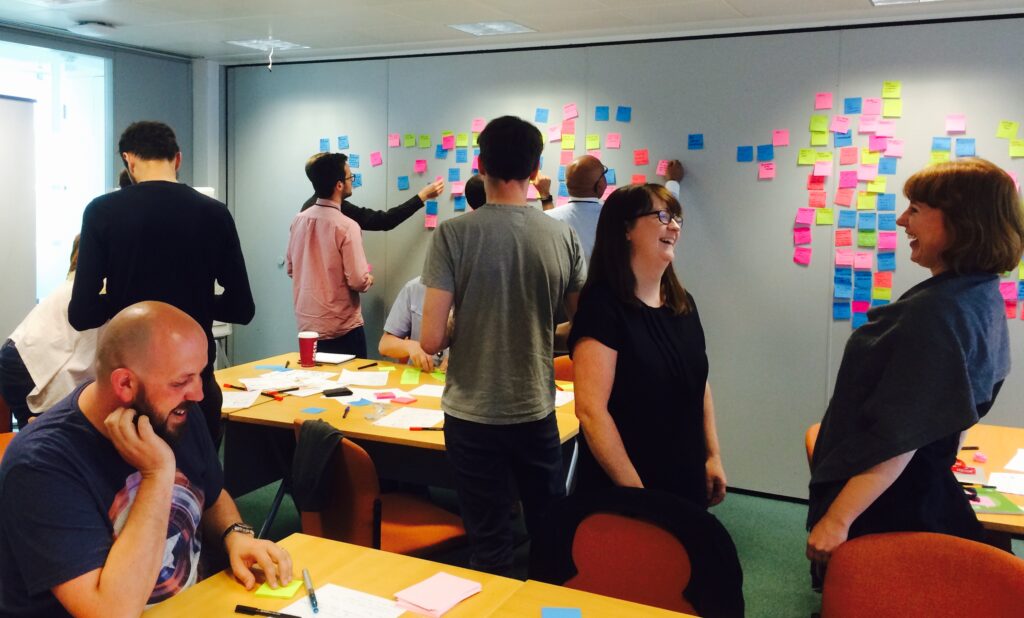 Cooperation and collaboration are guiding tenets for the people transforming government services and departments. In my most recent blog post about the Digital Marketplace vision, I focused on the importance of extending these principles to include the government's digital and technology suppliers.
This time, I'm going to talk about how we'd like to help build digital and technology buying capability across government. We want to connect teams in a growing community of like-minded people. We want to provide opportunities for diverse learning, coaching, and knowledge sharing.
For these things to happen, user-centred, design-led and open approaches to public sector procurements and contracts are vital. But at the heart of it, cooperation and collaboration are what really make the difference.
Accelerating capability building and increasing self-service buying
In September, the Minister for the Cabinet Office, Ben Gummer, and Director General of the Government Digital Service (GDS), Kevin Cunnington, announced that the DWP Digital Academy will be moved to GDS.
This is very exciting news. It will strengthen the already successful efforts across government to increase the number of people with specialist digital skills. It will also give GDS a truly nationwide presence, working to help train people in government across the country.
I see this as a huge opportunity to build on the work of the Government Commercial College, which is provided by the Government Commercial Function. I believe it will encourage:
good commercial practices for delivery teams from the digital, data and technology (DDaT) profession
good digital, data and technology delivery practices for the commercial profession
cooperation and collaboration with digital and technology suppliers
The government's Technology Code of Practice, together with the updated commercial operating standards and Supplier Standard, could each play a part in this.
Insights so far
Frequent Digital Marketplace user feedback and research sessions help us to understand our buyers' and suppliers' needs more deeply. In March last year, we published a blog post that talked about the insights we'd gained.
Our findings were:
buyers and suppliers are getting used to a new way of buying
buyers and suppliers need better education and engagement on a new way of working
buyers need engagement with their government community
departments must maintain a view of their teams' technology buying
These insights contributed to the design and delivery of Digital Outcomes and Specialists, which has been available on the Digital Marketplace since 27 April 2016.
There are some excellent examples of better practices that we can use when we start designing centrally provided services. These services help to build capability and increase self-service buying. For example, if we look at the United States we can find:
Support, enable, assure
User-centred, design-led and open approaches can help transform public procurement and contracting. I've been thinking about the opportunities they present since I joined GDS.
From our user research, we know that buyers and suppliers need support to enable them to become self-sufficient. And, we need to introduce better practices that are underpinned by the right standards and assurance.
Centrally-led services that work across government can really help to accelerate capability building and increase self-sufficiency. They enable departments to transform together, without creating a dependency on a central service team.
In a recent blog post "The GDS mission: support, enable and assure" Kevin Cunnington said:
Some of our biggest and most complex transformations - such as Universal Credit, Making Tax Digital, HM Courts and Tribunals Service Reform and GOV.UK Verify - have significant elements of [a] focus on users and transforming internal operations
To accelerate capability building and increase self-service buying, I'd like to see:
a focus on meeting users' needs - not merely compliant buying
a focus on defining outcome-based requirements - service or product visions, not detailed specifications
use of open and modular

procurement and contracting 

approaches - early market engagement with potential suppliers, sharing outcome-based requirements while they're developing, breaking contracts into smaller and shorter-duration pieces of work
more agile ways of working - helping commercial people to play a role in the multidisciplinary digital and technology delivery teams, focusing on individuals and interactions, customer collaboration, and responding to change
collaborative supplier relationships and behaviours - shared values, joint delivery, shared responsibility for success and problem solving, no blame culture
Buying teams will be completely self-sufficient when they're:
able to continue the cycle of learning within their own department or agency
part of a community of like-minded people that's promoting adoption of the buying practices, helping to deliver successful digital and technology projects
Working in this way, we'll be able to support people at every stage of their team's development.
More in this series
This is the fifth in a series of 6 blog posts in which I'm talking about the Digital Marketplace vision. Next time, I'll be building on this theme of scalability with a post on 'Going wholesale' with the Digital Marketplace.
As always, we'll be thinking out loud by blogging here regularly. Sign up to follow the Digital Marketplace blog to track our progress.