Buyers will be able to buy Digital Outcomes and Specialists services on the Digital Marketplace from next week.
To help our users get an idea of what to expect from the service, we blogged about our our earliest usable product and talked about which steps in the buying process would be on the Digital Marketplace when we launch, and which ones would be completed outside it.
Testing a live service gives better insights
We've done 14 rounds of user research since the new year to help us understand the needs of buyers and suppliers. However, testing a service like this one is difficult because the end-to-end process is complex and can take more than 4 weeks to complete.
When users start using the service for real, we'll get the best feedback on what works well, what doesn't, and what we need to build next. To put the service in the hands of our users as soon as possible, we've had to make some tough decisions on what we won't build for launch. We talk through our thinking behind some of our decisions in this post.
Suppliers will have 2 weeks to apply for opportunities
When suppliers apply for work, they:
make a declaration of whether they can meet a buyer's essential and nice‑to‑have skills and experience
say when they can start work
give their day rate (for specialists)
As suppliers are only asked to provide this information, they shouldn't need long to respond to opportunities. However, our user research has shown us that when buyers need to find someone urgently, they want the flexibility to change the length of time suppliers can apply for the work. Building something that would allow buyers to do this would have taken longer so when we launch, suppliers will have a fixed period of 2 weeks to apply for opportunities.
Giving buyers an option to choose how long suppliers can apply is the top priority in the backlog.
Buying is a team sport
We know that, in most cases, more than just one person is involved in buying digital services. Technical experts, commercial experts, and sometimes lawyers work together to write their requirements and set their evaluation criteria.
When we launch, only one user will be able to write and publish requirements and receive questions from suppliers. We'll be doing more research on how teams work together to help us design a way for several people to work on a team's requirements on the Digital Marketplace.
When Digital Outcomes and Specialists services become available next week, we'll publish a list of the questions buyers will need to answer to write their requirements and evaluation criteria. This will allow teams to write these together before publishing them. We'd also encourage using a team email account to register on the Digital Marketplace so you can share your draft requirements with other team members.
Weighting individual evaluation criteria
Buyers can evaluate suppliers on:
technical competence
cultural fit (outcomes and specialists) or availability (user research participant recruitment)
price
Buyers tell suppliers how important each of these criteria are by giving them a number or 'weighting' out of 100. However we've found that some buyers want to give weightings to the questions that make up the evaluation criteria. For example, within technical competence, some skills or experience could be more important than others. For this to be fair and transparent, individual weightings must be published with the requirements so suppliers know how they're going to be evaluated.
The image below shows how buyers can add this information to the box when they write the criteria, eg by writing 'how well the proposed technical solution meets the requirements - 15 points'.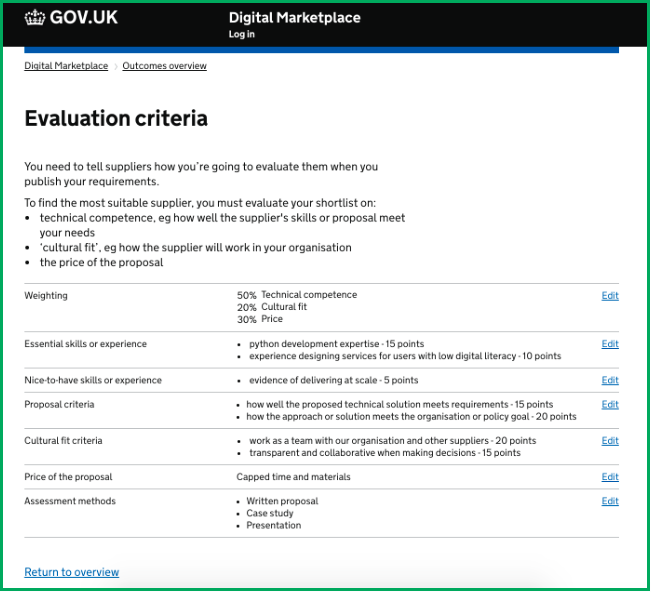 This is how the page might look when we launch. We'll learn how to iterate on this solution after more user research.
Managing internal approvals
Across the public sector, there are lots of different processes for getting approval. This isn't something we manage through the Digital Marketplace. In most organisations, you need to get both budget approval as well as agreement from your commercial team before you buy Digital Outcomes and Specialists services.
Your feedback will help us iterate
There's still lots to do to iterate on the earliest usable product and to design an end-to-end buying journey on the Digital Marketplace. When you use the service, we want your feedback on what we've built so far. Email us at enquiries@digitalmarketplace.service.gov.uk and sign up to be part of user research.