If you applied to G-Cloud 7 (G7), you'll receive a letter on 9 November through your Digital Marketplace account to tell you the result of your application. All applicants will receive an email when their letter is ready to download.
Successful applicants
If your application was successful, you'll also find your framework agreement in your Digital Marketplace account. Please sign it and return it to the Crown Commercial Service (CCS) through your Digital Marketplace account within 30 days of the end of the standstill period. CCS will then countersign it. Suppliers who fail to meet this deadline may be suspended from the Digital Marketplace.
How to sign and return your framework agreement
Instructions for signing and returning the framework agreement will be available on the Digital Marketplace. Below is how we expect the page to look.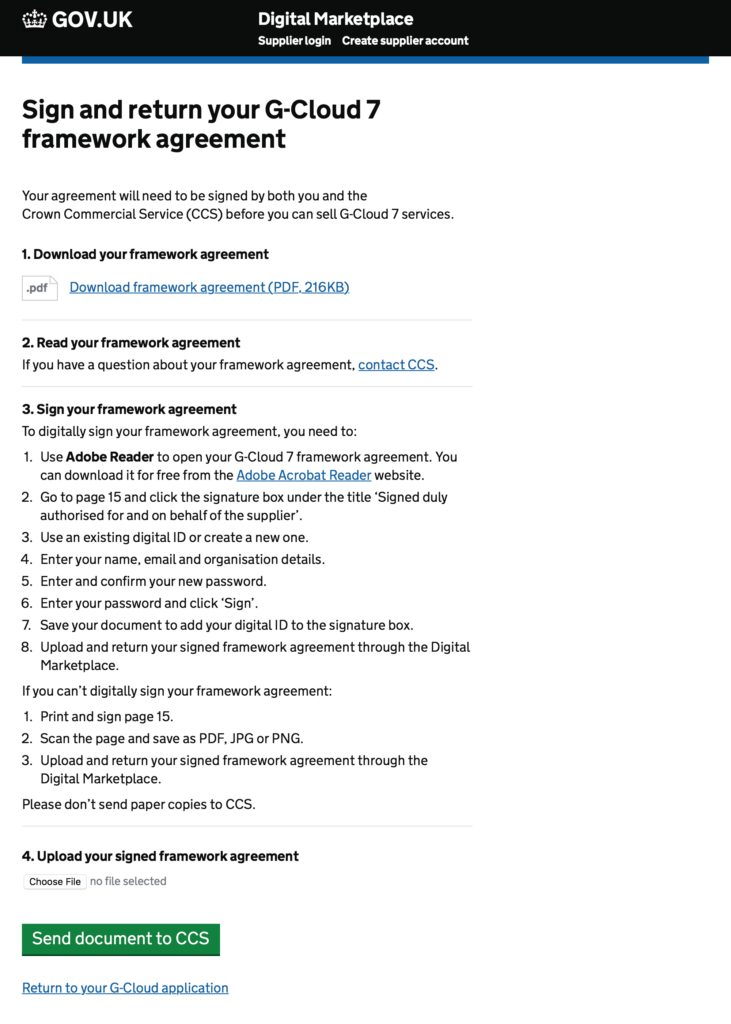 One of the fastest ways to sign and return your framework agreement is to digitally sign it using Adobe Reader. A digital signature is also the fastest and most cost-effective way for government to countersign it. You won't be able to start selling your G7 services until you've signed and returned your framework agreement and CCS has countersigned it.
If you can't digitally sign it, you can print, manually sign and return a scanned copy of the signature page. Signed paper copies won't be accepted.
Your services
We expect G-Cloud 7 services to be live on the Digital Marketplace on Monday 23 November. We'll notify you when your countersigned framework agreement is available to download through your account. It will then be available there for the duration of the G7 framework.