You might have noticed some changes on the Digital Marketplace since G-Cloud 6 (G6) went live. The new G6 service pages now contain more detailed information upfront, which is presented more simply and clearly. And there's more to come.
In-depth user research, analytics and feedback led to the discovery that the G-Cloud 4 and 5 (G5) filters as they, were not meaningful to buyers. As a result the filtering functionality was rarely being used to find services. A significant amount of work has now been done to understand what searching or filtering capabilities work for buyers; the following aspects are now in the process of being added to the Digital Marketplace:
Search
Search currently works across service name and description. This is being extended to encompass features and benefits over the next two weeks.
Filters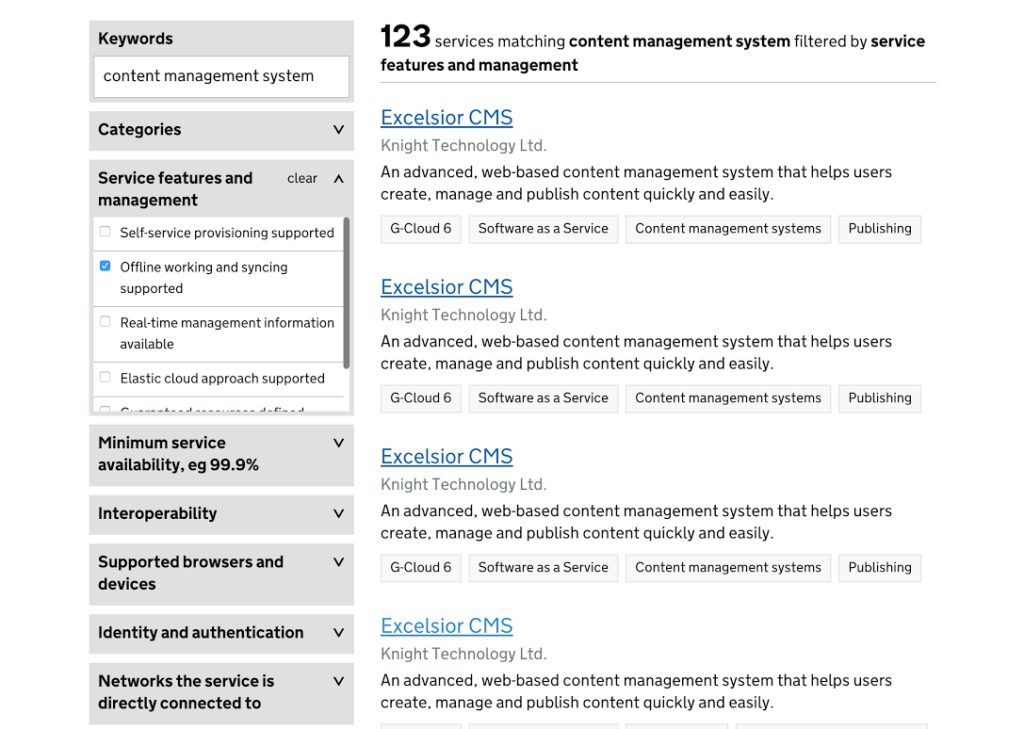 The filters vary by lot, so buyers should select either Infrastructure as a Service, Platform as a Service, Software as a Service or Specialist Cloud Services and then refine their search by a relevant set of filters within each lot.
As mentioned before, the filters were rarely used so have been removed based on this buyer feedback. The new filters will be implemented by the end of February 2015. Whilst you're waiting for the arrival of the new Digital Marketplace filters, please use the search with all relevant keywords to find what you're looking for.
Supplier dashboard
Two major changes are just around the corner for suppliers: next week, G6 services will be visible in your dashboard and you will be able to deactivate duplicate G5 services.
For any other queries, please email enquiries@digitalmarketplace.service.gov.uk