The @G_Cloud_UK Twitter account
The G-Cloud framework was first live in February 2012. As usage of the framework increased, it made sense to set up a Twitter account with the handle @G_Cloud_UK. We used this Twitter account as a channel of communication with both buyers and suppliers and have built a following of over 7,500.
What's changed
In November 2014, the Digital Marketplace went into public beta, replacing CloudStore as the single place that all public sector organisations can use to buy cloud-based services (eg web hosting or site analytics). The G-Cloud framework sits underneath the Digital Marketplace as the agreement between government and suppliers who provide these cloud-based services.
Future thinking
In the future, other digital services from different frameworks will be added to the Digital Marketplace. For example the ability to find people or teams to help design and build bespoke development projects in an agile way from the Digital Services framework.
Why we're switching to @GOVUKDigimkt
The Digital Marketplace is the primary platform and G-Cloud one of the frameworks that sits underneath this platform. The Digital Marketplace team are responsible for all communications concerning the Digital Marketplace, G-Cloud, Digital Services and any other frameworks that may sit under the Digital Marketplace platform in the future.
Because of these two reasons we plan to change the Twitter handle to @GOVUKDigimkt to consolidate and streamline our approach to how we communicate via social media.
This doesn't mean that G-Cloud is being phased out or that G-Cloud is no longer a significant part of the platform or process. The change in name is simply a more sensical way for us to communicate about Digital Marketplace, G-Cloud and Digital Services, as well as any other framework that might be added in the future.
To explain the case further, it wouldn't make sense to post an update on the Digital Services framework from the @G_Cloud_UK Twitter account, likewise, it wouldn't make sense to set up a separate Twitter account for every framework.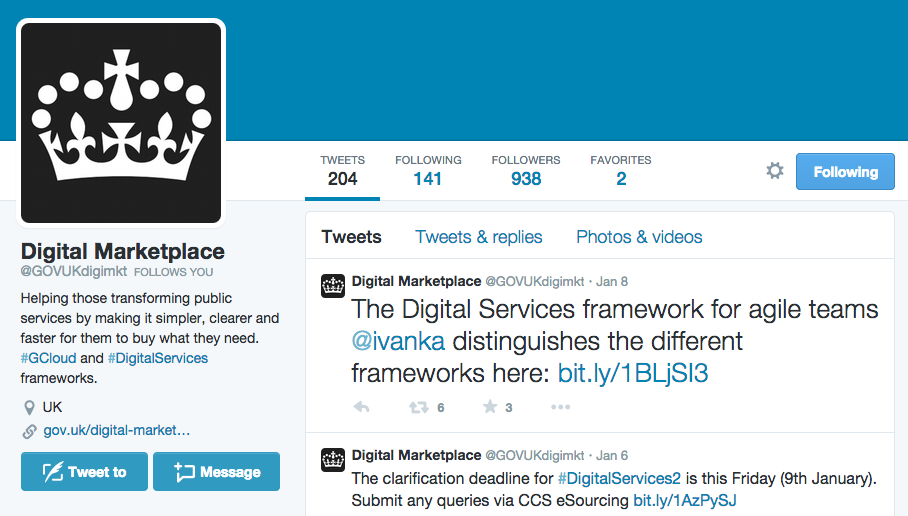 How we're switching to @GOVUKDigimkt
We've been holding the @GOVUKDigimkt Twitter account. This account will become dormant at the beginning of February 2015 with the name moving over to replace @G_Cloud_UK.
Tweets from @GOVUKDigimkt about the G-Cloud framework will carry the hashtag #GCloud. This hashtag can be searched to isolate tweets we send about G-Cloud. Please bear in mind that other accounts may also be using the #GCloud hashtag to categorise content.
If you're following us @GOVUKDigimkt follow @G_Cloud_UK now or before the end of February to ensure you stay connected with us.