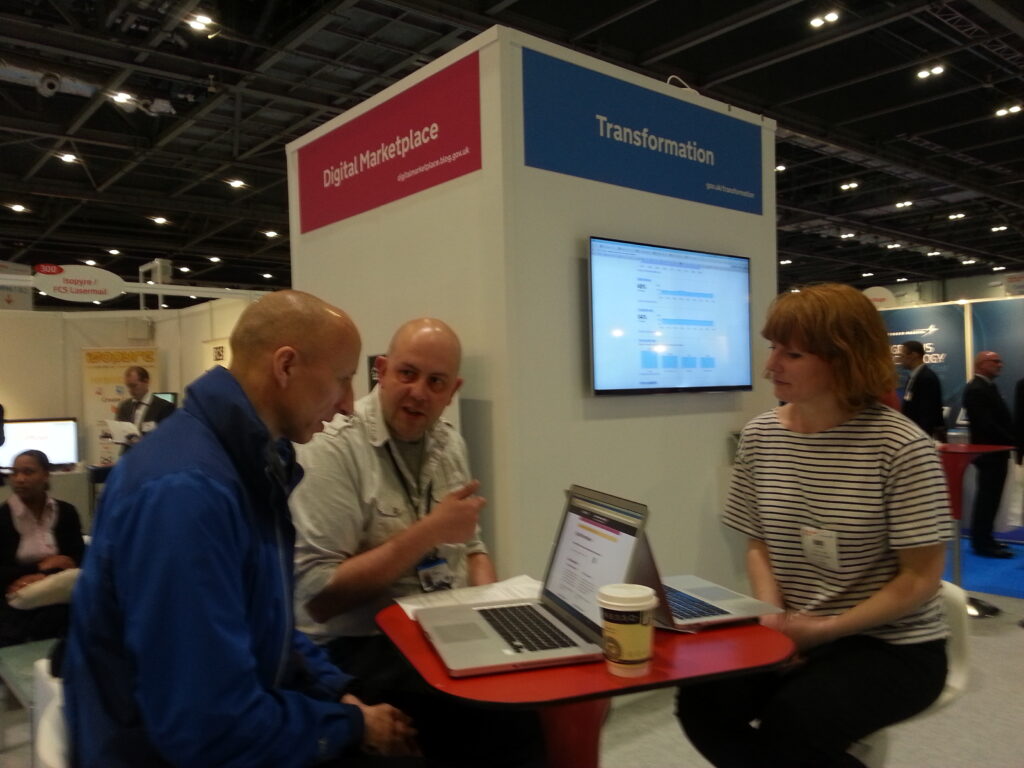 As Katie discussed in her recent blog, we've now released the Alpha of the Digital Marketplace to users within Government Digital Service at Aviation House. The Public Sector Show at ExCel on the 13th May gave us an opportunity to take the Alpha out of the office and test it amongst a wider public sector audience.
We hosted a pop-up research area within the GDS Zone and were able to gather data from seven participants. All are involved in the procurement process in their respective jobs. The testers ranged from civil servants and local authority buyers to university procurement managers.
It was easy to find users willing to test the store as access to the G-Cloud framework attracts a great deal of interest. There's an awareness across the public sector that it exists and an increasing number of people have had direct experience of using CloudStore.
Swifter searching
Since the last round of user testing there has been a major change to how searches are carried out. The engine now looks for words "and" other words, instead of "or" (for example Content Management System) in the keyword search box. This has had a dramatic effect on the relevance and number of results returned. Users were extremely positive about the speed of the search and no longer felt overwhelmed by the number of results that were returned. It made them feel more confident to begin the process of filtering their requirements to make their shortlist.
Keep it simple
It's easy to assume a level of understanding. But what we think is clear, might not be obvious to our users. Commonly used terms like Infrastructure as a Service (IaaS) and Platform as a Service (PaaS) can be quite abstract. Some users might be confident that they understand these terms, but they aren't always sure where a service might be classified. This highlights a need to simplify the language we use and make sure we're encouraging terms that are as easy to define as possible.
Similarly, we need to consider the assumptions users make. If they see a link that says "View Supplier Page" it may not be clear whether this will take them into a supplier-specific page within our service, or to the supplier's publicly-viewable web address.
User testing is ongoing. Sign up to help us improve the Digital Marketplace.