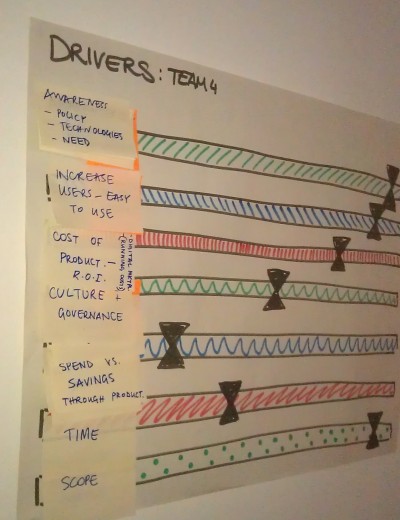 G-Cloud is about more than sales; it is about transforming the way the public sector buys cloud-based services, and it is one of the frameworks supporting a wider business IT transformation. The Cloud First policy sets out that cloud solutions should be looked at first by public sector buyers and the current CloudStore should be the route for buying those services.
An ongoing part of the work surrounding G-Cloud is that of building the buyer base, which plays a key role in increasing G-Cloud sales.
Educating all buyers is important
A recent survey by Eduserv found that a minority of civil servants thought that the benefits of the cloud were well understood by their organisations.
We need to ensure that everyone involved with IT both in central government and the wider public sector, fully understands the benefits of cloud technologies as well as how G-Cloud works and the benefits it offers.
Savings and other benefits
We've spent some time to identify savings of purchases made through G-Cloud, and we will publish a full report shortly. On average, we saw savings of around 50% and there are examples of savings of more than this. Other benefits buyers have spoken about include greater transparency; flexibility; a simpler, clearer, faster way to buy and ultimately better value for the taxpayer – once the requirement has been defined, we have put a contract in place in three minutes!
Competitive buying
One thing that needs to be clearly understood is that G-Cloud does not sidestep the competitive procurement process as each iteration of the framework goes through a full OJEU. What it does do, is give organisations an overview of the services available to them before they begin their own procurement. The benefits are on both sides. By making it easier for smaller companies (often innovative suppliers) to win business, it is creating a more competitive marketplace for buyers and suppliers.
Our immediate goals
It is essential that we get the message across to service owners and those developing policy, senior civil servants and the equivalent in the wider public sector. We will involve as many leaders involved in IT procurement across the wider public sector as possible, as well those who plan and deliver IT projects so that understanding and using G-Cloud truly becomes their first .
We will capitalise on the great work and success stories from those who have already successfully adopted cloud based strategies and harness the goodwill of early adopters to build supplier and buyer community 'champions'.
We are also developing an online resource that can be widely used by anyone that wishes to. This will include case studies, myth busting articles and short videos.
Increasing awareness
The launch of this new blogging platform is the team's first - visible - step in our task of increasing awareness. G-Cloud has already seen a great start and accessing the suppliers and services on the framework through the new Digital Marketplace we want to ensure this continues. To make sure we regularly communicate the progress we are making, I will personally be providing a monthly post to keep you updated.