We've started publishing sprint highlights as a way to keep you up to date on what we've delivered in the last two weeks. The highlights comes from our team Show and Tell and are just a part of many updates, improvements and changes that we're constantly rolling out on the Digital Marketplace.
Highlighting search results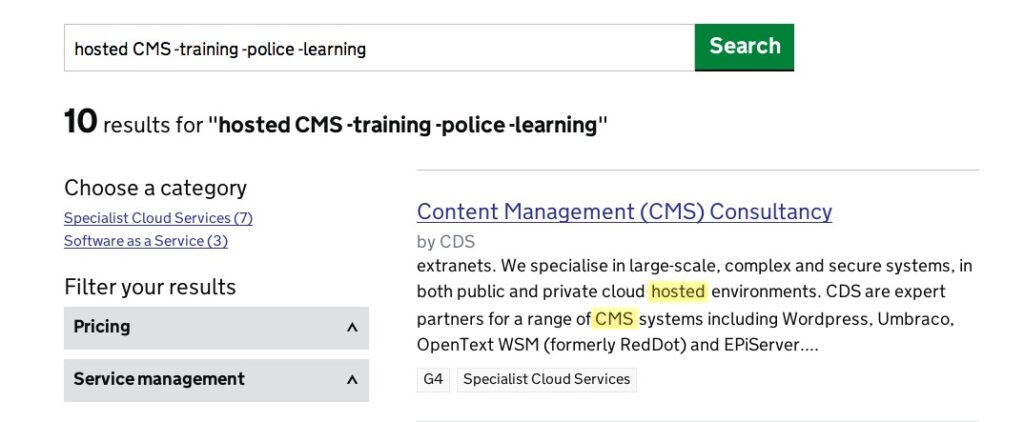 Previously, some search results displayed no highlighted keywords. This was confusing to buyers who didn't understand why these results were appearing because they did not appear relevant to the search terms. This happened because search result previews were limited to the first 250 characters of the description.
We now look for the first occurrence of the search term in the description, and trimming the preview around it.
This makes it more obvious whether services meet the buyer's requirements or have just added keywords.
Updates to filtering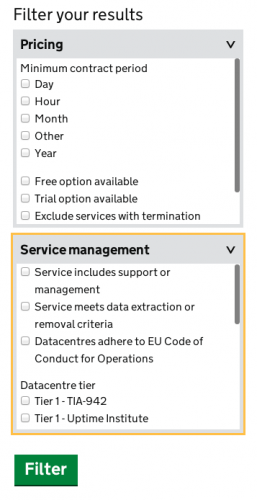 We're continuously improving the way you find relevant services in Digital Marketplace. We've added further filters to help narrow down the number of results.
This means you can drill down into the lots (ie IaaS, PaaS, SaaS, SCS) as well as more-specific sub categories (eg compute, storage).
One click deployment
We've simplified the deployment process. Now it has only one step, rather than multiple steps which each required human action. This means we can deploy features and fixes more quickly.
Currently, this is only for the staging environment. Once we are happy with how it is working we will do the same for the live environment.